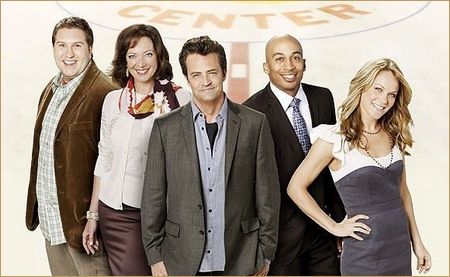 What About ?
Mr. Sunshine - Le directeur d'un stade de San Diego traverse la fameuse crise de la quarantaine...
Episodes - Un couple de scénaristes anglais ayant connu un certain succès en Grande-Bretagne décident de traverser l'Atlantique pour adapter leur série aux Etats-Unis. Leurs premiers pas dans l'industrie de la télévision américaine, dirigée par des financiers et des investisseurs, se révèlent bien plus compliqués qu'ils ne l'avaient prévu. Et comme si cela ne suffisait pas : ils sont forcés de remplacer leur acteur principal par un certain... Matt LeBlanc !
Why ?
Retrouver un ancien Friends, c'est toujours un événement mais ce n'est pas systématiquement un gage de succès et de qualité. On se souvient du retour raté de Courteney Cox avec Dirt, dont on se serait amplement passé et elle aussi, ou encore de son deuxième retour semi-raté avec Cougar Town cette année. On pourrait parler aussi de The Comeback pour Lisa Kudrow, qui était une excellente série mais qui n'avait pas besoin de durer au-delà d'une saison, ou de Studio 60 On The Sunset Strip pour Matthew Perry, aux cotés du grand Aaron Sorkin, qui ne méritait pas d'être un tel bide. Mr. Sunshine a donc pour atout son casting, qui ne se résume pas à Matthew Perry puisqu'on y compte également Allison Janney (A la maison blanche, et c'est la fameuse "Mother" de Lost) et Andrea Anders, bien capables de lui voler la vedette. A vrai dire, c'est déjà le cas dans la bande-annonce, qui n'est par ailleurs pas tellement enthousiasmante. Je prédis à Mr. Sunshine un destin à la Better Off Ted. Autrement dit : une sitcom de bureau de qualité qui n'intéresse malheureusement personne. Mais je me trompe peut-être et je l'espère sincérement. L'option "série ratée qui cartonne" me paraît peu envisageable en revanche.
Du coté d'Episodes, il est plus facile d'être confiant. Matt LeBlanc n'a jamais été mon Friends préféré et je le considère même comme le moins talenteux de tous mais il a un fort capital sympathie, c'est indéniable. De plus, les exigences d'audience de Showtime n'étant pas si élevées, il y a moyen de s'en sortir convenablement. La série en elle-même fait preuve d'originalité dès sa bande-annonce avec ce mélange de fiction et de réalité qui amène à des scènes disons... cocasses et décalées ! Se dirige-t-on vers un deuxième The Comeback ? J'ai bien l'impression. Et ma foi, il y a pire. Un regret toute fois : que la charmante Claire Forlani ait été remplacée dans la série.
// Bonus // Les bandes-annonces :