18 mars 2011

Au programme cette semaine : Sarah Shahi vient présenter Facing Kate (Fairly Legal en VO), le dessinateur du comics The Walking Dead vient parler de la série, les photos des tournages des pilotes les plus attendus (Charlie's Angels, 17th Precinct...), la date du départ de Steve Carrel de The Office, Terra Nova repoussée, The Kennedys sur France 3...
17 août 2010

Il est temps d'attaquer les choses sérieuses... Vous remarquerez que les nominés portent tous continuellement (sauf un) un costume dans leurs sitcoms. Les hommes bien habillés seraient-ils plus drôles que les autres ?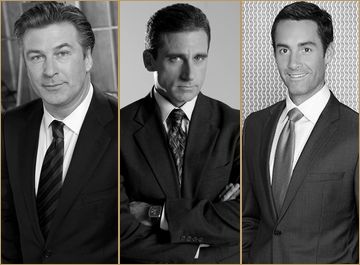 Dans la catégorie "Meilleur Acteur dans une Comédie" de la saison 2009/2010, les nommés sont : Alec Baldwin (30 Rock), Steve Carell (The Office), Jay Harrington (Better Off Ted), Neil Patrick Harris (How I Met Your Mother), Jim Parsons (The Big Bang Theory) et Jason Schwartzman (Bored To Death).
Il était hors-de-question de les nommer : Charlie Sheen (Mon Oncle Charlie), David Duchovny (Californication), David Spade (Rules Of Engagement), Adrian Grenier (Entourage), Bryan Greenberg (How To Make It In America), Kelsey Grammer (Hank)...
Ils auraient pu être nommés eux-aussi : Zachary Levi (Chuck), Joel McHale (Community), Johnny Galecki (The Big Bang Theory), Matthew Morrison (Glee)...
09 avril 2010

Au programme cette semaine : Adios Betty, les retours de Glee et de Gossip Girl, Tina Fey et Steve Carrell en guests (un crossover The Office/30 Rock, ça vous tente ? Eh bien pas eux), Lie To Me arrive sur M6, les pilotes sont en tournage...