22 avril 2012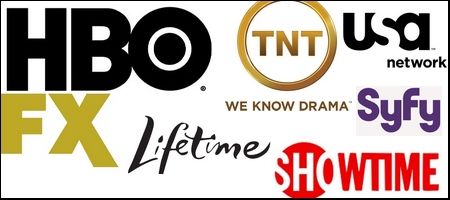 Les chaînes du câble seraient-elles en perte de vitesse ? Cette saison, pour ma part et pour le moment, il n'y a que Homeland et American Horror Story parmi les nouveautés lancées qui m'ont vraiment plu. Il fallait sinon se tourner vers les valeurs sûres (Damages, True Blood, Weeds, The Big C... proposées l'été dernier) même si certaines, comme Dexter, sont de moins en moins sûres. Le futur arrivage sera-t-il un meilleur cru ? A vous de juger ! Mais n'oubliez pas que le câble fonctionne différemment des networks et qu'il n'y a pas, à proprement parlé, de "saison des pilotes". Il s'agit là d'un échantillon des pilotes commandés ces derniers mois qui n'aboutiront pas forcément cette année, s'ils aboutissent.
__________
Tous les synopsis et visuels suivants sont tirés du dossier La Saison des Pilotes 2012 d'AlloCiné
__________

1. CHELSEA HOSPITAL
TNT. Créé par David E. Kelley (Chicago Hope, Ally McBeal, The Practice, Boston Justice, Harry's Law).
Réalisé par Bill D'Elia (Harry's Law).

Le quotidien de cinq chirurgiens à l'hôpital Chelsea General alors qu'ils repoussent sans cesse les limites de leur don, quitte à faire des erreurs. Celles-ci font l'objet d'une conférence top secrète tous les lundis au cours de laquelle tous les médecins se réunissent pour passer les complications et les erreurs en revue et tenter d'en tirer des enseignements pour leurs futures interventions...

Avec Jennifer Finnigan (Close To Home, Better With You), Jamie Bamber (Battlestar Galactica), Alfred Molina, Bill Irwin, Ving Rhames, Emily Swallow, Sarayu Rao...
___________
2. THE VIAGRA DIARIES
HBO. Créé et produit par Darren Star (Beverly Hills, Melrose Place, Sex & the City, GCB...)
Réalisé par Paul Feig (Mes meilleures amies, The Office, Nurse Jackie)
Anny Applebaum est une journaliste de soixante-dix ans en charge d'une rubrique consacrée aux "baby-boomers" dans un hedomadaire de San Francisco. Toujours à la recherche de nouvelles histoires à raconter, elle enchaîne les rencontres avec des hommes âgés. Récemment divorcée après 35 ans de mariage, elle ne recherche plus l'amour mais espère toujours faire fortune et devenir célèbre...
Pas de casting disponible. Goldie Hawn et Wendy McLendon-Covey ont quitté le projet.
__________

3. REWIND
SyFy. Créé par Justin Marks. Réalisé par Jack Bender (Lost, Alcatraz).
Une équipe de militaires et de scientifiques doivent utiliser une nouvelle technologie qui n'a encore jamais été testée pour voyager dans le passé afin de changer des événements qui ont conduit à une attaque terroriste dévastatrice...
Avec Shane McRae, Jennifer Ferrin, Keisha Castle-Hughes, Keon Mohajeri, Robbie Jones...
__________

4. HURT PEOPLE
Cinémax. Créé par Peter McManus. Produit par Graham King (Camelot, Aviator, Les Infiltrés, Hugo Cabret...).
Hollis Brown est un tueur à gages engagé par une famille du crime, laquelle a provoqué la mort de sa femme. Il compte ainsi la venger et retrouver la fille qu'il a eu avec elle mais qu'il n'a jamais connu...
Avec William Petersen (Les Experts)...
___________
5. L.A. NOIR
TNT. Créé par Frank Darabont (The Walking Dead). Produit par Michael De Luca (The Social Network).
Réalisé par Frank Darabont.
La bataille épique entre le chef de la police de Los Angeles William Parker et le mafieu Mickey Cohen pendant plus d'une décennie entre les années 40 et 50...
Avec Jon Bernthal (The Walking Dead), Milo Ventimiglia (Heroes, Gilmore Girls), Neal McDonough (Desperate Housewives, Boomtown, Justified), Alexa Davalos (Le Choc des Titans, The Mist), Simon Pegg (Paul, Mission : Impossible - Protocole fantôme), Jeremy Strong...
___________

6. RAY DONOVAN
Showtime. Créé par Ann Biderman (Public Enemies, Peur primale, Copycat).
Un spécialiste des litiges les plus compliqués, controversés et confidentiels des familles les plus aisées de Los Angeles, a bien du mal à régler ses problèmes à lui, bien souvent d'ordre familiaux...
Avec Liev Schreiber (Scream 3, Les Insurgés), Paula Malcomson (Hunger Games, Caprica), Jon Voight (24, Heat), Katherine Moennig (The L Word, Young Americans), Peter Jacobson (Dr House), Pooch Hall, Dash Miho, Eddie Marsan...
__________

7. GRACELAND
USA Network. Créé par Jeff Eastin (White Collar).
Des agents de différentes agences gouvernementales vivent dans une maison secrète de la Californie du sud.
Avec Vanessa Ferlito, Daniel Sunjata (Grey's Anatomy, Rescue Me), Brandon Jay McLaren, Courtney B. Vance (FlashForward), Manny Montana, Aaron Tveit...
___________

8. THE AMERICANS
FX. Créé par Joe Weisberg. Produit par Graham Yost (Justified, Falling Skies).
Phillip et Elizabeth Jennings, deux espions du KGB qui feignent être mariés, vont s'installer dans la banlieue de Washington dans les années 80. Leurs convictions vont être mises à rude épreuve lorsqu'ils réalisent que leur faux mariage et peut-être plus réel qu'il n'y paraît et qu'en plus, ils sentent une certaine affinité pour le mode de vie américain. Tout ces bouleversements vont compromettre leurs missions et assumer une double identité va être de plus en plus difficile pour eux, qui plus est, dans le contexte de la Guerre Froide où le moindre faux pas peut leur coûter la vie...

Avec Keri Russell (Felicity), Matthew Rhys (Brothers & Sisters), Noah Emmerich (Super 8, The Walking Dead)...
___________
9. THE CORRECTIONS
HBO. Créé par Noah Baumbach (Les Berkman se séparent, La Vie aquatique). Adapté de l'oeuvre de Jonathan Franzen.
Les déboires d'un couple âgé et de leurs trois enfants adultes, du milieu du 20ème siècle jusqu'à leur "dernier noël" ensemble, à l'aube du nouveau millénaire...
Avec Ewan McGregor, Chris Cooper, Dianne Wiest, Maggie Gyllenhaal...
___________

10. MASTERS OF SEX
Showtime. Créé par Michelle Ashford.
Réalisé par John Madden (Shakespeare in Love).

La vie et les amours de William Masters et Virginia Johnson, deux chercheurs spécialisés dans l'étude des comportements sexuels...

Avec Michael Sheen (Kingdom of Heaven, 30 Rock), Lizzy Caplan (True Blood, Party Down), Teddy Sears (American Horror Story), Nick D'agosto, Beau Bridges, Caitlin Fitzgerald...
___________
A vos votes ! (dans cette phase du "Coming Next", vous pouvez voter pour autant de pilotes que vous le souhaitez).