20 avril 2009
Cliquez sur les vignettes pour les critiques complètes
---


[5x 13]
---


[3x o9]
[4x 2o]
[1x 16]

[2x 13]
---
Et la review du pilote de The Unusuals.
13 avril 2009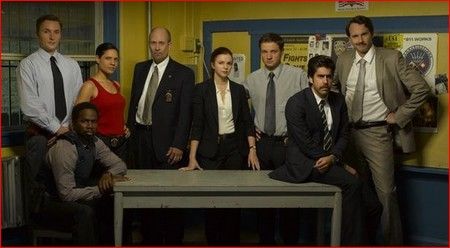 Pilot // 6 83o ooo tlsp.

What About ?
Casey Shraeger fait ses premiers pas au sein de la section des affaires criminelles dans un commissariat de police new-yorkais. Un travail difficile qui la met en danger chaque jour et nécessite de faire preuve de pas mal d'humour. Elle réalise très vite que dans son nouveau département tous n'ont pas le même humour, et que chacun a ses petits secrets. (AlloCiné)
Who's Who ?
Le rôle principal de cette dramédie policière a été confié à Amber Tamblyn, la petite actrice sympathique qui voyait Dieu partout dans Le Monde de Joan. On retrouvre à ses cotés Jeremy Renner, Terry Kiney, Monique Gabriela Curcen, Joshua Close mais surtout Adam Goldberg, qui était extra dans le film Two Days In Paris, et Harold Perrineau, alias le Michael-They-Took-My-Son de Lost !
So What ?
Après Southland, vraiment pas mauvaise, voici une autre série policière différente, comprendre par là à mille lieux des Experts, des FBI et autres... Ici, on ne fait pas semblant de donner un semblant de vie personnelle aux personnages ! On leur en donne vraiment et c'est ce qui les rend d'emblée attachants. Mais en plus de ça, ce sont des originaux (des unusuals quoi !). On a le policier qui ne retire jamais son gilet pare-balles parce qu'il a peur de mourir, tout comme son père et son frère et son cousin, à 42 ans ! On a son co-équipier timbré qui vient d'apprendre qu'il a une tumeur au cerveau, ce qui explique certainement son comportement parfois étrange. Il est suicidaire sur les bords, en plus ! On a le flic qui tient un petit bistrot le soir venu et qui est plutôt du genre facétieux et farceur avec ses collègues. En réalité, en plus d'être bizarres, ils ont tous un secret. Casey par exemple, l'héroïne, cache le fait qu'elle vienne de la bourgeoisie new yorkaise. Les coups de téléphone incessants de sa mère sont d'ailleurs très amusants. Il y a aussi deux-trois flics qui n'ont pas l'air nets, en rapport à l'affaire qui occupe une grande partie de ce pilote et qui sera certainement le fil rouge de cette saison. Un des flics de l'équipe a été tué dans des circonstances inexpliquées pour des raisons indéterminées. En bref, The Unusuals n'est pas révolutionnaire mais elle place la comédie au centre des enquêtes policières, à travers des personnages attachants et loufoques et rien que pour ça, elle mérite d'être saluée ! En réalité, c'est plus un retour en arrière vers des séries des années 80-90 telles que NYPD Blues mais qu'importe : dans le paysage actuel, elle détonne !