10 octobre 2008
ABC n'a lancé qu'une seule nouveauté en cette rentrée : Life On Mars. Mais au vu des scores de certaines de ses séries (Pushing Daisies et Dirty Sexy Money en tête), il va rapidement y avoir de la place dans la grille de la chaîne pour plein de nouveautés ! Deux trailers viennent de faire leur apparition sur le net, ceux de Single With Parents et Castle ...
---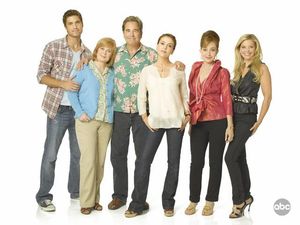 Single With Parents : Louisa, Lou pour les intimes, la trentaine, est déjà la mère de deux grands enfants : ses parents ! Récemment divorcés, ils comptent sur leur fille pour les aider à refaire leur vie. Lou fait trois voeux : que son père trouve la femme de sa vie, que sa mère trouve l'homme de sa vie et qu'elle trouve enfin son prince charmant à elle ... En moins de temps qu'il ne faut pour le dire, elle croise un beau jeune homme qui la fait totalement craquer. Quelques minutes plus tard, elle se rend compte qu'il s'agit d'un des fils de la nouvelle compagne de son père ! // Dans le rôle principal de cette nouvelle sitcom, on retrouve Alyssa Milano, la Samantha de Madame est servie, devenue la Jennifer de Melrose Place puis la Phoebe de Charmed ! Retour à la comédie donc pour l'actrice que l'on a vu grandir. A ses cotés, un casting alléchant : Annie Potts (Any Day Now, Men In Trees, Designing Women), Beau Bridges (Stargate SG1), Amanda Detmer (What About Brian) et Eric Winter, le divin (Brothers & Sisters). La bande-annonce laisse à penser que la série sera très proche de Samantha Who? et ce n'est pas pour me déplaire ... Tentés ?
---
Castle : La série raconte l'histoire d'un écrivain de best sellers du genre policier/horreur, Richard "Rick" Castle. Il est appelé à aider le département de police criminelle de New York dans ses enquêtes lorsqu'un tueur imite les meurtres de ses livres. // Dans le rôle principal, on retrouve Nathan Filion (Firefly, Desperate Housewives ...) et c'est à peu près la seule tête connue ! Quand ABC se met aux séries policières, ça donne pas grand chose. Women's Murder Club n'a pas su trouver sa place l'année dernière et j'ai le sentiment qu'il en sera de même pour Castle. La bande-annonce montre que la série joue en partie sur la comédie, c'est toujours ça de pris !