16 octobre 2011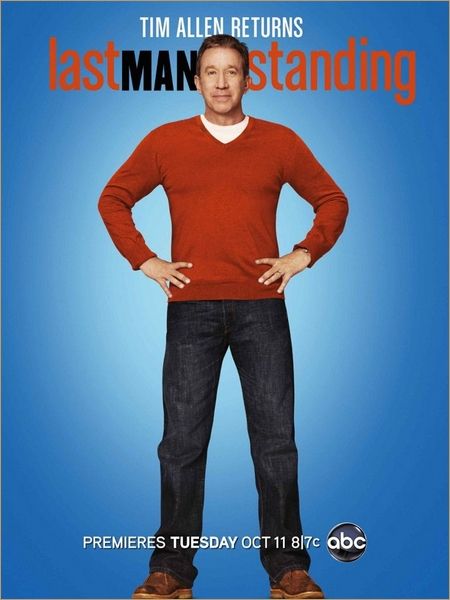 Pilot // 12 953 000 tlsp.

What About ?
Un père de famille doit se battre au quotidien pour préserver ce qui lui reste de virilité alors qu'il n'est entouré que de femmes...
Who's Who ?
Créée par Jack Burditt (30 Rock, Voilà!, Frasier). Avec Tim Allen (Papa Bricole, Toy Story, Super Noël...), Nancy Travis (Presque Parfaite, Becker), Hector Elizondo (Chicago Hope, Grey's Anatomy), Kaitlyn Dever (Justified), Molly Ephraim, Alexandra Krosney...
So What ?
Deux tendances totalement opposées semblent se dessiner en terme de comédies en cette rentrée : celles qui mettent en avant des femmes malignes (les 2 Broke Girls, l'héroïne de Suburgatory), qui se croient malignes (Whitney) ou qui ne le sont que par intermittence (la New Girl); et puis d'un autre coté celles qui font la part belle aux hommes de cro-magnon et/ou beaufs de service (How To Be A Gentleman, bientôt peut-être Man Up!). Les succès de How I Met Your Mother, Modern Family, The Office et j'en passe n'auront donc servi à rien à la fois en terme de ton, de réalisation et de message ?
20 ans après le lancement de Papa Bricole, Tim Allen est donc de retour sur ABC dans un rôle équivalent à celui qu'il a tenu pendant 8 saisons, la seule grosse différence ici étant qu'il n'est plus entouré de trois fils mais de trois filles. L'homme moderne qui assume ses émotions et sa part de féminité n'existait pas à l'époque. C'était, au mieux, une douce utopie. Les temps ont heureusement bien changé et celui qui pouvait être attachant et amusant dans les années 90 n'est qu'un plus qu'un pauvre imbécile totalement dépassé et conscient de l'être, et pas vraiment prêt à changer pour autant ! Nulle doute que le but de la série sera de le faire évoluer dans le bon sens mais, en attendant, il va falloir se taper des blagues profondément médiocres à base de clichés sur les hommes, "les vrais", les durs. Savoir changer un pneu, pêcher de gros poissons, allumer un barbecue... semblent être les éléments essentiels pour les définir. Moi, ça me fait peur; ça me débecte même. Il semble y avoir derrière tout ça un bon gros message Républicain à vomir, où les pensées progressistes n'ont pas leur place. La scène de la crèche m'a d'ailleurs choqué sur le coup : il retire le fils de sa fille du lieu parce qu'ils s'amusent à construire des mosquées avec des coussins. Obama est d'ailleurs raillé à l'occasion. On peut saluer l'audace -tout comme celle, gentillette, de se moquer de la concurrence directe, à savoir Glee- mais franchement, produire ça en 2011 et en être fier, c'est inquiètant. Comme en plus ça a marché, ça va donner de supers idées aux dirigeants de chaînes... Je n'ai pas parlé de la prestation de Tim Allen en elle-même mais que dire si ce n'est qu'il m'a l'air carrément surestimé le monsieur ?
Last Man Standing est une sitcom qui ne tient pas debout et qu'on a juste envie de laisser tomber sur-le-champ !
What Chance ?
Les deux premiers épisodes ont très bien marché mais rien ne dit que cela durera. Je crois que pour le bien de la télévision américaine, il faut que la sitcom se plante dans les prochaines semaines...
How ?