22 octobre 2008

Out Of Africa // 9 64o ooo tlsp.

---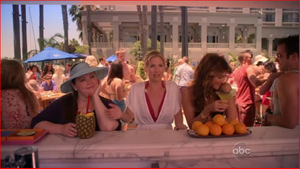 Après quelques petites recherches, je vous confirme ma suspicion au sujet du season premiere de la semaine dernière. Il n'était pas prévu à la base. C'était une commande d'ABC pour promouvoir la série (ce qu'ils ont réussi d'ailleurs). Le vrai premier épisode de la saison, écrit à la base en tant que tel, c'est celui-ci, Out Of Africa. Il est effectivement beaucoup plus dans la continuité de la première saison. Ici, pas de guests inutiles et de blagues qui tombent à plat ! J'ai énormément ri devant l'épisode, j'ai retrouvé la sitcom qui m'a tant plu l'année dernière. Tous les personnages, y compris Samantha et Todd, sont au top de leur forme ! Andrea tient sûrement le haut-du-pavé avec ses remarques délicieusement absurdes et délibérement méchantes. Regina en fait des tonnes quand sa fille lui fait croire qu'elle est partie en Afrique. J'ai un peu de mal à comprendre ce changement d'attitude alors que l'année dernière, elle n'avait qu'une hâte : que Sam se barre de chez elle ! Mais ça a le mérite d'être tordant et c'est le principal. Tout l'épisode est construit sur une idée farfelue du faux voyage en Afrique et ça marche à merveille !
---
// Bilan // Voilà le vrai season premiere ! Je reconnais bien là ma Samantha.