19 avril 2013

Au sommaire : - Le spin-off de "Breaking Bad" se concrétise - Un teaser pour le retour de "The Newsroom" - La bande-annonce de "The Way Way Back", un film très très séries - "Veronica Mars" bat des records - Patricia Arquette dans "Medium", John Barrowman dans "Scandal" - On répond à vos questions : "Hell On Wheels", "Magic City", "Devious Maids" - Pleins feux sur "Jo" en compagnie de Jean Reno - "Spartacus" s'achève en beauté...
02 novembre 2012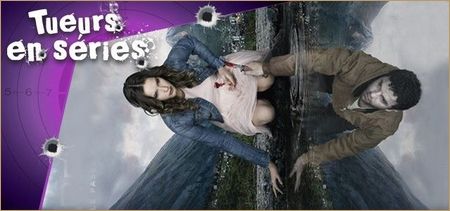 Au sommaire : "Hell On Wheels" renouvelée, "Scandal" et "The Neighbors" prolongée, Zach Braff peut-être bientôt de retour, pas de spin-off de "The Office" centré sur Dwight, la date de lancement de "The Following", les premières photos d'"Hannibal", Seth Green dans "How I Met Your Mother", les prochains guests de "Men At Work", le retour de "Luther" se précise, plongez dans l'univers des "Revenants" de Canal +, "L'Exorciste" façon sitcom des années 80...
21 janvier 2012

Au programme cette semaine : Dernières annulations en date : How To Make It It America, Work It & Allen Gregory - Hell On Wheels, Psych, Sherlock & Hot In Cleveland renouvelées - Community obtient un sursis - The Firm en danger - Les dates des nouvelles saisons de Mad Men, Game Of Thrones, The Killing (US) et Being Human - Notre bilan des Golden Globes 2012 - Gregory Fitoussi nous donne des nouvelles d'Engrenages - Zoom sur Q.I, la nouvelle comédie dramatique d'Orange avec Alysson Paradis - Un montage qui vous fera aimer encore plus Breaking Bad...
11 novembre 2011

Au programme cette semaine : Le western reviendrait-il à la mode ? Historique du genre, arrivée d'Hell On Wheels et projets en développement - Spartacus et Downton Abbey renouvelées - La saison 4 de Sons Of Anarchy prolongée - Wilmer Valderrama en guest dans Suburgatory - Eric Durance, épouse de Michael Shanks pour Saving Hope - On répond à vos questions : True Blood, Kal Penn. - La bande-annonce de la nouvelle série d'USA Network, Common Law - Les anglais présents Fresh Meat - Rencontre avec Arthur Benzaquen, le héros de Zak.