08 novembre 2008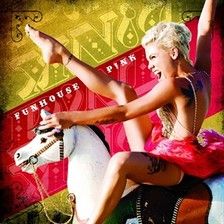 Après Alanis Morissette, c'est au tour de Pink de parler d'amour déçu dans son nouvel album, Funhouse. Le titre est trompeur d'ailleurs. "It used to be a Funhouse", in fact. En Janvier 2008, elle divorce d'avec son mari Carey Hart, champion de motocross. Le mariage n'aura duré que deux ans. Cela explique probablement les textes plutôt tristes de l'album dans leur grande majorité. So What?, le premier single, est d'ailleurs entièrement consacré à son ex mais sur un ton volontairement moqueur et finalement très drôle. Le clip très Pink renforce cette impression. Ce titre est absolument parfait, très énergique et enthousiasmant. Deux autres titres aux paroles franchement négatives ont le mérite de bien bouger : Funhouse et Bad Influence. Ils s'inscrivent en plus dans une volonté de proposer un univers cohérent, ambiance "western" coté bar. C'est quelque chose qu'elle avait déjà un peu exploré avec l'album Try This, d'où peut-être cette impression de déjà-vu. Plus rock, le titre Ave Mary A dépote pas mal. Là encore, c'est le désespoir qui domine le texte, avec un petit coté religieux qui me déplaît. "Where is the light ?". This is how it goes down reste dans l'esprit rock, avec des paroles légèrement bitchy.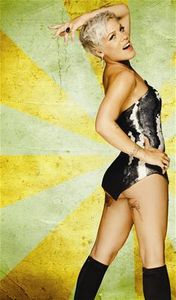 Puis vient toute une tripotée de chansons mid-tempo ainsi que quelques ballades plutôt jolies et touchantes. Sober, le deuxième single, évoque l'état de dépression et d'auto-destruction qui suit les ruptures. Finalement, le texte est positif malgré l'amertume : "How do I feel this good sober ?" Ce titre est terriblement efficace. Il fait parti de ceux que l'on écoute en boucle jusqu'au dégoût total. One Foot Wrong, It's All Your Fault et Please Don't Leave Me restent en tête avec plaisir. Elles mettent particulièrement bien la voix de Pink en valeur. Crystal Ball et Glitter in the air sont un peu ennuyeuses mais les textes sont jolis. I Don't Believe You est magnifique, la plus belle ballade de l'album. Could'Ve Had Everything conclut l'album sur une note peu positive. Il n'y a qu'une seule chanson que je n'aime pas du tout : Mean. Pink se la joue diva de la country et ça le fait pas.
Au final, cet album est beaucoup plus profond et inspiré au niveau des textes que tous les précédents. Encore dans I'm Not Dead, pourtant un très bon album, on avait l'impression que la crise d'adolescence de Pink n'était toujours pas terminée. Il y avait aussi plus de provocation, quelques paroles très cul ... J'aurais beaucoup de mal à choisir entre ces deux albums. Ce qui est certain, c'est que Funhouse est un compagnon de route bien agréable à l'oreille, avec des mélodies efficaces et de l'émotion.
---
Une prestation live de Sober
It's All Your Fault