29 novembre 2009

Hairography // 6 1oo ooo tlsp.
---
Je me plaignais depuis quelques temps de numéros musicaux moins inspirés, cet épisode au contraire m'a comblé de ce point de vue-là ! Absolument fan du Papa Don't Preach de Dianna Agron/Quinn Fabray; très ému sur la version "sourde" d'Imagine même si elle avait un coté totalement surréaliste; amusé par la prestation des bad girls de la Jane Adams Academy sur le Bootylicious des Destiny's Child; admiratif devant la simplicité de True Colors; moins convaincu en revanche par le Crazy In Love du Glee Club mais en même temps, c'était un peu le but de proposer une prestation moyenne donc... En tous cas, l'idée des perruques était absolument nulle et n'a strictement rien apporté, à part peut-être son heure de gloire à cette sublime idiote de Britney. Elle me fait beaucoup rire dans le cliché de la cheerleader plus stupide que stupide. La "rediffusion" de You're the One That I Want façon Rachel+Finn, on s'en serait passé volontiers.
A vrai dire, les prestations musicales m'ont tellement plu que j'ai envie d'être indulgent avec cet épisode dont les storylines étaient somme toutes moyennes. C'est-à-dire que le bébé de Quinn est une brillante idée à la base mais c'est un peu la seule de ce début de saison donc on l'étire en longueur et ça devient plus ridicule qu'autre chose. Quinn est toujours très émouvante, et dans un sens, Terri aussi. Mais il serait temps que Finn et Will apprennent la vérité, si les scénaristes comptent la leur faire apprendre un jour. Je ne serais pas contre une découverte tardive une fois le bébé né mais alors il faudrait sérieusement trouver autre chose à raconter en attendant. Ce ne sont pas les personnages qui manquent ! A nouveau, on a joué avec le quatuor Quinn/Puck/Rachel/Finn pour offrir des scènes plus ou moins drôles, mais il y a toujours quelque chose d'attachant et de lumineux qui se dégage et ça suffit à mon bonheur. J'ai moins aimé les petits stratagèmes de Kurt. Ils étaient faciles et je pense qu'il est capable de mieux. Ceux de Sue n'étaient pas non plus très inspirés. Pour la première fois, je ne l'ai même pas trouvé drôle. Elle était juste affligeante. Quant à la venue d'Eve en guest, elle était plus anecdotique qu'autre chose mais le passage de Will dans son lycée était bien décalé.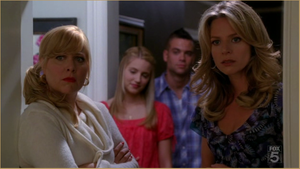 ---
// Bilan // De très bons numéros musicaux ont suffit à me faire passer un très bon moment. Bien-sûr, si les intrigues étaient plus variées, ça ne ferait de mal à personne...
---
// Bonus // Papa Don't Preach par Dianna Agron. J'aurai aimé vous proposer les images et pas seulement le son mais la FOX fait la chasse aux vidéos maintenant et c'est très agaçant...