06 juillet 2012

Au sommaire : Au coeur de la saison 4 d'"Engrenages" - Lana Parrilla nous parle d'Ursula et de "La petite Sirène" dans "Once Upon A Time" - "Bref", c'est fini ! - Vague de renouvellements ("Dallas 2012", "Rizzoli & Isles", "Rookie Blue", "True Blood", "The Newsroom"..) - les anciens showrunners de "Lost" Carlton Cuse et Damon Lindelof ont de nouveaux projets - le trailer de Black Dynamite !
21 janvier 2012

Au programme cette semaine : Dernières annulations en date : How To Make It It America, Work It & Allen Gregory - Hell On Wheels, Psych, Sherlock & Hot In Cleveland renouvelées - Community obtient un sursis - The Firm en danger - Les dates des nouvelles saisons de Mad Men, Game Of Thrones, The Killing (US) et Being Human - Notre bilan des Golden Globes 2012 - Gregory Fitoussi nous donne des nouvelles d'Engrenages - Zoom sur Q.I, la nouvelle comédie dramatique d'Orange avec Alysson Paradis - Un montage qui vous fera aimer encore plus Breaking Bad...
28 juillet 2010

La France est toujours à la traîne en matière de séries (et dans bien d'autres domaines d'ailleurs), mais cette année fut tout de même bien meilleure que les précédentes avec quelques productions de qualité. Elles méritaient donc bien une catégorie à elles ! Et si vous ne les avez pas vues, shame on you. Never Too Late !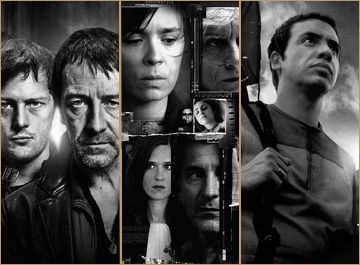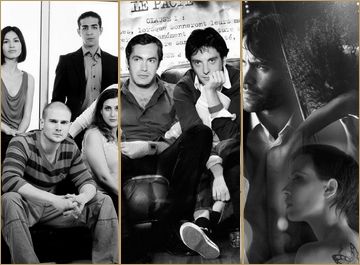 Dans la catégorie "Meilleure série francophone" de la saison 2009/2010, les nommées sont : Braquo (Canal +), Engrenages (Canal +), Kaamelott (M6), Les Bleus (M6), Les Invincibles (Arte) et Pigalle, La Nuit (Canal +).
Elles ne méritaient vraiment pas d'être nommées : euh... j'ai la flemme de faire la liste, vue sa longueur évidente !
Elles n'ont pas démérité : Un Village Français (France 3), Hero Corp (France 4), L'Internat (M6), Les Bougons (M6).
08 juin 2010

Au programme du jour : Eric Close confirme la commande de son pilote "Chaos", Valérie Kaprisky dévoile le casting de sa future mini-série, Caroline Proust parle de la saison 4 d'Engrenages, et visite guidée du Grimaldi Forum où se déroule le festival...
Demain : Jorge Garcia nous révéle une exclu sur les bonus de Lost, Ian Somerhalder, Larry Hagman, Elizabeth Mitchell, Ice-T, LL Cool J., Nina Dobrev, Emily VanCamp... au micro !