25 mars 2012
Heart Of Darkness // 8 690 000 tlsp.
---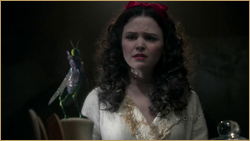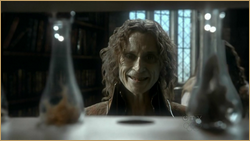 Ca y est ! Je crois que j'ai compris qui était l'étranger August ! Okay, ce n'est pas vraiment le sujet central de l'épisode, mais la scène entre Henry et lui m'a beaucoup plu. Et je pense que... August est en réalité... Henry lui-même ! Henry plus vieux quoi. Ne me demandez pas comment ni pourquoi ! Mais un voyage dans le temps dans l'univers de Once Upon A Time ne me paraît pas inapproprié. Vous verrez. Vous l'avez lu ici en premier !
Pour en revenir à nos soucis actuels, on notera que les auteurs consacrent désormais un épisode sur deux, quasiment, à Snow White et Charming. C'est autour de ces héros que tous les enjeux actuels tournent et les personnages satellites, au moins cette fois-ci, avaient malgré tout tous un rôle à jouer : les 7 nains, Henry, Jiminy Crickett (le retour), Red... et bien entendu Rumplestiltskin qui tire toutes les ficelles, encore plus maintenant qu'il a pu "mettre en bouteille" la potion du "True Love" (dont le fruit de l'union est Emma). Il faut plus de personnages comme celui-là en saison 2. Je sais, ça va être compliqué... C'est lui qui sauvera Mary Maragaret des griffes de Regina à n'en pas douter. Elle s'est pourtant donnée du mal. Chapeau aux scénaristes d'avoir en fait sorte que les personnages puissent douter légitimement de la maîtresse d'école. Et surtout David ! Il est le premier à avoir des flashs de sa vie passée de Prince, mais il n'a pas encore tous les outils pour les comprendre. Et sincèrement, je ne pense pas qu'il les ait un jour. Il faudra sûrement compter sur quelqu'un d'autre de ce coté-là. Par ailleurs, j'étais assez surpris qu'il faille que Henry souffle à Emma que Regina était celle qui avait tué Kathryn. Il me semble qu'elle est assez intelligente pour le deviner toute seule, surtout que ce n'est pas comme si elle n'avait pas un passif avec la mairesse ! Bref, Emma n'est pas toujours traitée par les auteurs comme elle le devrait et c'est bien dommage.
Ce que j'ai ADORE dans cet épisode, c'est cette Snow White super badass, très très éloignée de la Blanche Neige de notre enfance, prête à tuer de ses propres mains the Evil Queen s'il le fallait. La scène où elle chassait un oiseau m'a particulièrement plu. Tellement anti-Disney. Ca fait du bien aussi, même si c'était de courte durée. Ginnifer Goodwin a été géniale, mais pas comme d'habitude : plus encore que d'habitude ! Je l'aime. Elle était tout aussi bonne dans l'action dans les bois que dans l'émotion dans sa cellule. Les producteurs n'auraient jamais pu trouver une incarnation du personnage plus parfaite. Cela dit, je me dis toujours que l'actrice doit se sentir un peu laisée niveau dialogue par rapport à Big Love. C'est un problème constant dans la série : des répliques pauvres ou trop répétitives.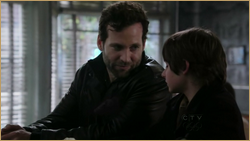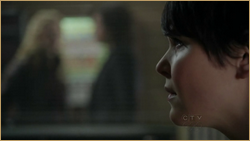 ---
// Bilan // A good show isn't born, it's made !