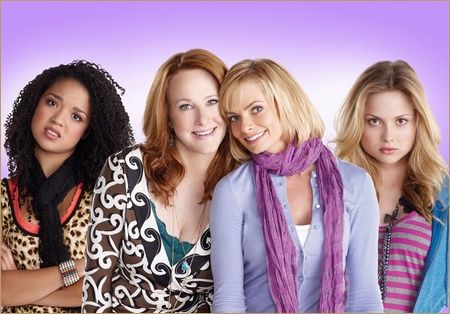 Pilot // Teenage Family Night
6 800 000 tlsp. // 5 380 000 tlsp.

What About ?
Deux femmes d'âge mûr et divorcées, Annie et Nikki, sont mamans de deux adolescentes qui correspondent exactement au genre de filles qu'elles détestaient et qui leur menaient la vie dure quand elles étaient au lycée...
Who's Who ?
Sitcom créée par Sherry Bilsing (Friends, Joey, Old Christine) et Ellen Kreamer (Old Christine). Avec Jaime Pressly (Earl, Jack & Jill), Katie Finneran (Wonderfalls, The Inside), Aisha Dee (Grand Galop), Kristi Lauren, Kevin Rahm (Desperate Housewives, Amy, Jesse), Chad Coleman (The Wire), Eric Sheffer Stevens (As The World Turns).
So What ?
Vous savez pourquoi j'ai préféré I Hate My Teenage Daughter à Last Man Standing et How To Be A Gentleman cette saison ? Parce qu'elle n'est pas aussi paresseuse et ringarde que les autres et, surtout, elle donne le pouvoir aux femmes et non aux hommes. Rien ne vaut une série avec plein de femmes qui s'entretuent à coup de vannes bien bitchy ! Cela marche excellemment bien avec 2 Broke Girls, parce que l'écriture y est soutenue et les actrices formidables, le résultat est beaucoup moins amusant avec Teenage Daughter mais il reste quand même quelques bonnes répliques de temps à autres et les actrices ont plutôt l'air convaincu de ce qu'elles racontent (plus que nous en tous cas). En revanche, comme dans 2 Broke Girls d'ailleurs, les hommes sont effacés et franchement pas drôles et je regrette d'ailleurs que les deux héroïnes soient divorcées. Il aurait été plus intéressant qu'elles soient dans deux schémas familiaux différents afin de varier un minimum les plaisirs. Si l'une est gourmande voire vorace -et cela constitue 80% des blagues qui viennent d'elle- l'autre souffre d'une personnalité moins affirmée. Au bout de deux épisodes, on ne sait pas vraiment qui elle est et de quel trait de son caractère l'on pourrait facilement se moquer. Puis il est assez difficile d'imaginer Jaime Pressly en gentille mère de famille. Elle a quand même une bonne tête de connasse prétentieuse et sa nouvelle coupe au carré n'y change rien ! Dans le même genre, j'ai l'impression que Kevin Rahm (Lee dans Desperate Housewives) essaye de jouer l'hétéro mais n'y parvient pas vraiment alors qu'il a pourtant eu plein de rôles d'hétéro avant et qu'il l'est peut-être lui même dans la vie. Bref, y'a plein de truc qui clochent.
I Hate My Teenage Daughter aurait pu être une sitcom sympathique pour ABC Family ou la CW si elle en faisait encore (et elle en refera bientôt) mais elle n'a absolument rien à faire sur la FOX ! La chaîne se cherche en la matière, certes, mais elle va carrément sur la mauvaise voie avec celle-ci, c'est certain ! Après, quatre connasses qui s'envoient des vannes, basiquement, ça ne me déplait pas. Ma critique est aussi superficielle que la série.
What Chance ?
Après deux audiences médiocres derrière The X-Factor (qui n'est pas un carton mais qui n'est pas un si mauvais lead-in pour autant), rien ne pourra sauver la sitcom de l'annulation. Reste à savoir si elle va intervenir avant ou après la nouvelle année...
How ?