09 août 2011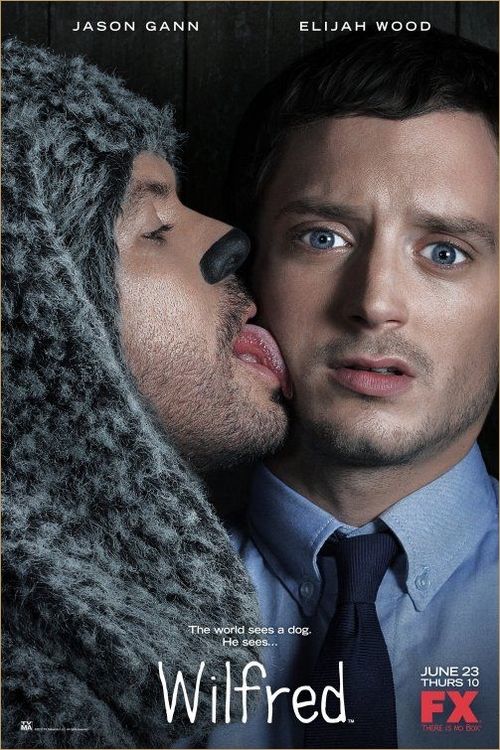 Happiness // Trust
2 550 000 tlsp. // 2 040 000 tlsp.

What About ?
Les gens voient Wilfred comme un chien. Ryan voit Wilfred comme un homme déguisé en chien. Wilfred est l'alter-ego de Ryan. Il lui permet de sortir de sa coquille, lui qui est si peu sûr de lui et si introverti...
Who's Who ?
Créée par Jason Gann, Adam Zwar, Tony Rogers. Produite par David Zucherman (Le Prince de Bel Air, Les Griffin, King Of The Hill, American Dad!). Avec Elijah Wood (The Faculty, Le Seigneur des anneaux, Eternal Sunshine...), Jason Gann (Wilfred AU), Fiona Gubelman, Dorian Brown (Roomates)...
So What ?
Alors là, il va sérieusement falloir que l'on m'explique en quoi Wilfred est une comédie drôle, qui mérite que l'on s'y intéresse au-delà des deux premiers épisodes (il me fut très pénible d'aller jusqu'au bout). Ce qui est certain, c'est qu'il s'agit d'une drôle de comédie (notez la différence), parfaitement loufoque, à qui l'on peut tout reprocher sauf son originalité ! Adaptée de la série australienne du même nom, elle est, de ce que j'ai lu et entendu, légèrement différente dans le sens où les américains ont cherché à justifier le concept. On sous-entend que si Ryan voit ce chien, c'est parce qu'il est drogué de médicaments, ou parce qu'il a trop bu, ou les deux à la fois. En réalité, le deuxième épisode venu, on se rend compte qu'il a juste un grain et que ce chien, qui lui même fume et boit, est bien réel dans son esprit malade. J'ai compris le but de l'affaire : ouvrir Ryan au monde. Et c'est assez touchant quand on y pense, d'autant qu'Elijah Wood incarne parfaitement la petite bête fragile et paumée à qui l'on ne peut que vouloir du bien. Passé ce moment de tendresse, Wilfred m'a tout bonnement ennuyé et affligé. Je n'ai pas souri une seule fois (je vous jure !), en partie parce que les dialogues m'ont semblé plats, et les situations bien trop faciles, dignes du film français Didier avec Alain Chabat. Toutes les blagues que l'on pouvait faire sur les "chiens humains" ont été faites dans le pilote, des léchouilles sur le visage et sur les seins, au pipi et caca n'importe où jusqu'à la simulation vulgaire de l'acte sexuel doggy style. Pitié, pourquoi ? Au-delà de ça, Wilfred se comporte comme un chien quand les scénaristes en ont besoin, et comme un humain quand ça les arrange. On veut nous faire passer de la facilité pour de l'originalité. Je ne marche pas. Est-ce que je manque d'humour ? Visiblement. Beaucoup de gens ayant l'air de sincèrement apprécier ce truc... Si vous avez de vrais bons arguments qui pourraient me convaincre de laisser une troisième chance à Wilfred, exprimez-vous, je vous écoute attentivement. Si, comme moi, vous n'avez pas compris cette série du début à la fin et que vous n'avez pas ri, merci de me rassurez.