03 août 2011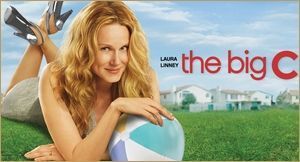 Cats And Dogs // 510 000 tlsp.
---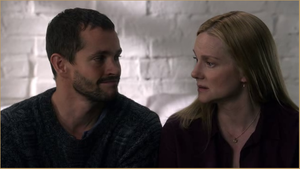 Malgré les absences conjuguées d'Andrea et de Rebecca (la deuxième semaine consécutive pour celle-ci), ce Cats And Dogs était un délice. On peut remercier pour ça le nouveau pote de Cathy, Lee, avec qui il ne se passera normalement jamais rien d'ordre amoureux et/ou sexuel puisqu'il lui annonce qu'il est gay au cours d'une scène mémorable (on ne se lasse pas des crises de rire de Laura Linney). Mais alors à quoi va-t-il bien pouvoir lui servir ? Des amis, elle en a déjà quelques uns, surtout si l'on considère son mari comme son meilleur ami, mais des amis qui partagent la même souffrance liée à la maladie, non. C'est le premier. En cela, leur discussion sur leur futur enterrement était aussi touchante qu'amusante. On constate par la même occasion l'évolution de Cathy. La saison dernière, elle voulait mourir comme un oiseau, cachée; aujourd'hui, elle imagine une grande fête avec -c'est le détail qui tue- une fontaine de chocolat ! De plus, ses délires bouddhistes l'aideront peut-être à se calmer en cette période où la colère la ronge. Dans tous les cas, on est gagnant car ce personnage apporte indéniablement sa pierre à l'édifice. Le passage du "braquage" était très drôle aussi, très Big C dans l'âme.
Les deux intrigues parallèles de Sean et Adam ne sont vraiment devenues intéressantes que lorsqu'elles se sont rejointes : Sean a ainsi prouvé qu'il pouvait être un adulte responsable après s'être ridiculé au parc et Adam... Adam a juste prouvé qu'il était vraiment aussi con qu'il en avait l'air ! Deux choses à retenir: on peut payer une pute avec un vase un peu cher, elle acceptera; marcher avec une tenue de dominatrice 100% cuir, c'est pas facile: à éviter. Les déboires de Paul sont peu passionnants à suivre jusqu'à la scène finale, mignonne comme tout, qui nous rappelle combien il est le compagnon idéal, malgré son physique repoussant.
---
// Bilan // De bons dialogues, de bons acteurs et le tour est joué ! Tant pis si les situations dans lesquelles ils se retrouvent ne sont pas des plus inspirées.