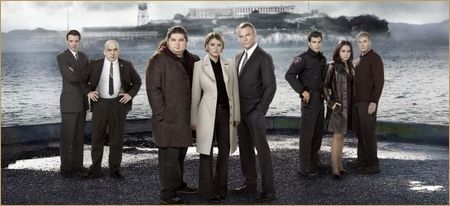 What ?
Des prisonniers et des gardiens de la célèbre prison d'Alcatraz réapparaissent trente ans après leur disparition dans des circonstances étranges. Une équipe d'agents du FBI mais aussi une flic, Rebecca Madsen, mettront alors tout en oeuvre pour les retrouver et comprendre les circonstances étranges de leur disparition.
Who ?
Créée par Elizabeth Sarnoff (Lost, Deadwood), produite par J.J. Abrams. Avec Sarah Jones (Sons Of Anarchy), Jorge Garcia (Lost), Parminder Nagra (Urgences), Santiago Cabrera (Heroes), Sam Neill, Robert Forster...
Where ?
FOX.
When ?
Le lundi à 21h, à la mi-saison, après ce qui semble être la huitième et dernière saison de Dr. House.
Why ?
Parce que J.J. Abrams, cela va sans dire (encore que Persons Of Interest, son autre nouvelle production de la saison prochaine pour CBS, ne me tente pas du tout). Parce que l'île d'Alcatraz est un lieu chargé d'histoire et de mystère, il y règne une atmosphère incroyablement pesante, c'est donc l'endroit parfait pour imaginer une grande fresque à la sauce Abramsienne. Parce que Fringe est en fin de vie et qu'il n'est jamais trop tôt pour chercher la relève. Parce que le casting est essentiellement constitué de visages que l'on connait, et, qu'éventuellement, on apprécie. C'est toujours plus engageant. Parce que je fais confiance à J.J. pour avoir trouvé en Sarah Jones le potentiel d'une Keri Russell, d'une Jennifer Garner, d'une Evangeline Lilly ou d'une Anna Torv. Parce que l'un des meilleurs élements de Lost, le réalisateur Jack Bender, vient de rejoindre le projet en tant que co-producteur.
Why Not ?
Parce que ceux qui ont considéré la fin de Lost comme une trahison (ahem) seront réticents à se lancer dans ce nouveau projet, parce que la FOX ne donne pas l'impression d'y croire plus que ça et parce que les conditions de diffusion risquent de ne pas être optimales, un flop à la Undercover n'est pas à écarter. Et parce que le projet semble avoir un coté "loner" légèrement repoussant, qui ne demande qu'à être balayé comme Fringe l'a fait avec brio.
How ?
What About You ?