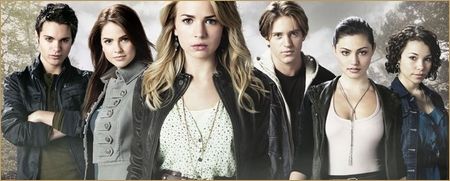 What ?
Une adolescente californienne doit retourner vivre chez sa mère à Salem. Elle découvre alors qu'elle est une sorcière, comme le veut la légende...
Who ?
Crée par Kevin Williamson (Dawson, Vampire Diaries). Avec Britt Robertson (Swingtown, Life Unexpected), Thomas Dekker (Heroes, Terminator), Gale Harold (Queer As Folk)...
Where ?
The CW.
When ?
Le jeudi à 21h.
Why ?
Parce que Kevin Williamson, bien qu'il ne soit pas à l'origine du projet. La CW a fait appel à lui en cours de route. Je suis fanatique de ce monsieur, je compter forcément sur lui pour réussir à nouveau son coup ! Parce que Britt Robertson est une des plus jolies révélations de ces dernières années à la télévision. Parce que je suis curieux de retrouver Thomas Dekker à la télévision après ses propos sur Heroes et Terminator peu élogieux. Parce que la série a de grandes chances de fonctionner (au niveau de la chaîne j'entends). Parce que Gale Harold en grand méchant, ça peut être sympa.
Why Not ?
Parce que la partie sorcellerie dans Vampire Diaries n'est pas la plus maîtrisée. Toute une série sur le sujet, est-ce que ça peut vraiment tenir la route ? Parce que les sorcières, c'est moins charmant que les vampires et la mythologie est en général moins touffue. Parce que le dédoublement de Kevin Williamson sur les deux séries pourrait causer du tort à Vampire Diaries et ce serait bien dommage. Parce que la CW. Tout simplement. (Je précise que j'aurais bien mis aussi Hart Of Dixie dans ce classement mais genre en 11ème ou 12ème place).
How ?
What About You ?