Landmarks // 6 41o ooo tlsp.

---
Pas un rire. Pas une émotion. Cet épisode d'How I Met Your Mother m'a laissé de marbre. Mais vraiment, je n'exagère même pas. Je crois que Carter Bays et Craig Thomas, les créateurs de la série et les scénaristes de cet épisode, détestaient autant que nous Zoey. Pour lui avoir offert une porte de sortie aussi minable, je ne vois pas d'autres explications. En plus, ils la diabolisent encore un peu plus en nous faisant le coup de l'enregistrement qui nous ramène à l'épisode 8 de cette saison, intitulé "Natural History" (qui n'était pas le pire de la saison). Elle était à ce point manipulatrice ? Tiens, je la hais encore plus maintenant ! Bravo. Du coup, c'est con, mais je sens que ça va me gâcher Once Upon A Time, la prochaine série de Jennifer Morrison dont elle sera, en plus, l'héroïne. Bref, je n'ai même pas pris de plaisir à la voir disparaître de la série, tant c'était mal écrit, plat et attendu. Ca laisse juste un peu d'espoir pour le final. Sans elle, on aura peut-être droit à quelque chose de plaisant. Mais ça reste à prouver. Zoey aura donc marqué How I Met par sa médiocrité. Mon Dieu, heureusement que ce n'est pas la mère ! De toute façon, à partir de maintenant, il me semble évident que toutes les femmes qui partageront la vie de Ted avant la "Mother" seront agaçantes. Pourquoi ne pas accepter le fait que la mère puisse faire partie intégrante du show lors des dernières saisons ? Parce que finalement, quand la série s'arrêtera, on saura enfin comment Ted l'a rencontrée mais on ne saura rien, ou presque, de leur futur. Oui, c'est le concept qui veut ça. Mais pourquoi pas le transcender alors qu'il reste encore, au moins, deux saisons ?
J'aurais bien aimé parler d'autre chose que de Zoey et Ted mais il ne se passe quasiment rien d'autre. Je pourrais évoquer la querelle entre Barney et le reste du groupe mais que dire à part que ce n'était pas marrant non plus ? Lily et Robin n'ont servi strictement à rien, pas plus que Marshall finalement malgré sa soudaine passion pour les rimes qui était plus navrante qu'autre chose. Les courts moments d'émotion de l'épisode étaient totalement ratés et caricaturaux des comédies romantiques.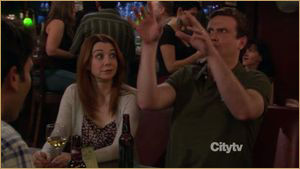 ---
// Bilan // "Sometimes, Things Have To Fall Apart To Make Way Bor Better Things". Il ne reste plus qu'à espérer que cette jolie citation se transformera en réalité pour How I Met Your Mother.Car là, sincèrement, on touche le fond du fond.