12 septembre 2010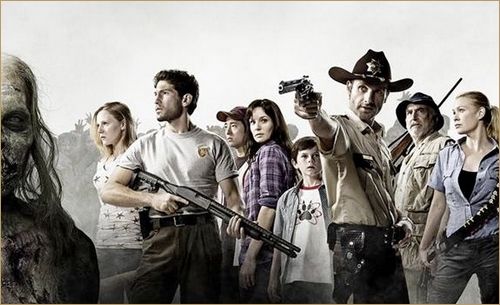 What About ?
Après une apocalypse ayant transformé la quasi-totalité de la population en zombies, un groupe de d'hommes et de femmes mené par l'officier Rick Grimes tente de survivre...
Why Not ?
Ne comptez pas sur moi pour faire semblant d'avoir lu les comic-books The Walking Dead, de tout connaître de l'oeuvre de Frank Darabont... en matière de zombies, je suis complètement vierge ! Oh, j'ai dû voir un film ou deux. Je me souviens de 30 Jours de Nuit qui m'avait d'ailleurs bien plu. Mais c'est tout. Je suis plus films d'horreur si vous voulez tout savoir. Donc si The Walking Dead m'attire, ce n'est pas pour les mêmes raisons que d'autres. D'abord, une série de zombies, ça n'existe pas. C'est vrai ! Et on ne peut qu'accueillir à bras ouverts quelque chose qui sort de l'ordinaire. On se plaint tellement que toutes les séries se ressemblent. Cela dit, c'est risqué aussi. On peut se laisser emporter et surprendre par un tel univers pendant 1h30 mais pendant six fois une heure ? Que va-t-il vraiment se passer dans cette série ? Y'a-t-il une "mythologie" ? Parce que si ce n'est qu'une course-poursuites entre humains et zombies, ça risque de vite devenir lassant. Je suis confiant. AMC ne se serait pas laissée embarquer sur un projet trop limité, sans lendemain. Quoiqu'il y a eu The Prisoner mais passons. Et puis des rumeurs font état d'une commande d'une saison d'ores et déjà. Donc il doit bien y avoir de la matière. Et puis je ne sais plus combien de comics exactement sont sortis mais un bon paquet en tous cas...
Les premiers extraits prouvent que l'image est très léchée et qu'elle se distingue de celle de Mad Men ou de Breaking Bad. Les moyens ont l'air d'être là. Les zombies ne paraissent pas ridicules. Reste quand même les acteurs en gros point d'interrogation. J'ai beau avoir une certaine tendresse pour Sarah Wayne Callies, il faut bien avouer que c'est une actrice un peu limitée. Bon après tout, on ne l'a vu que dans un grand rôle et super mal écrit (Prison Break) donc à voir. Je connais mal Andrew Lincoln mais il ne semble pas avoir l'étoffe d'un héros. J'aurais préféré Jonny Lee Miller ou Mark Pellegrino. Des rumeurs les évoquaient. Là encore, je demande à être agréablement surpris ! Bon et puis Jon Bernthal, s'il a le rôle de l'idiot habituel, il sera certainement convainquant mais forcément agaçant... Tout ça pour dire que, contrairement aux apparences, j'ai hâte de découvrir The Walking Dead, ne serait-ce parce qu'elle sera différente de toutes les autres séries et c'est déjà énorme !
// Bande-Annonce //