19 août 2010
J'ai beau être très content de ce cru 2009/2010, Christina Applegate manque grandement... Non ?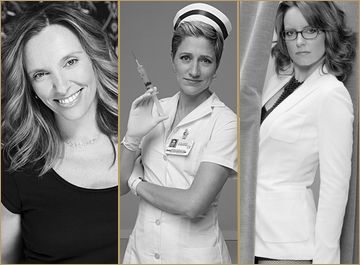 Dans la catégorie "Meilleur Actrice dans une Comédie" de la saison 2009/2010, les nommées sont : Toni Collette (United States Of Tara), Edie Falco (Nurse Jackie), Tina Fey (30 Rock), Jane Lynch (Glee), Mary-Louise Parker (Weeds) et Amy Poelher (Parks And Recreation).
Elles auraient pu être nommées également : Jenna Elfman (Accidentally On Purpose), Jayma Mays (Glee), Julia-Louis Dreyfus (Old Christine), Cobie Smulders (How I Met Your Mother)...
Elles n'avaient pas leur place ici : Kaley Cuoco (The Big Bang Theory), Teri Hatcher (Desperate Housewives), Eva Longoria (Desperate Housewives)...