24 juillet 2010
Je vous les avais promis il y a quelques temps, les voilà enfin ! Quoi ? Mes photos en compagnie de la superbe Julie Benz et la sublissime Elizabeth Mitchell.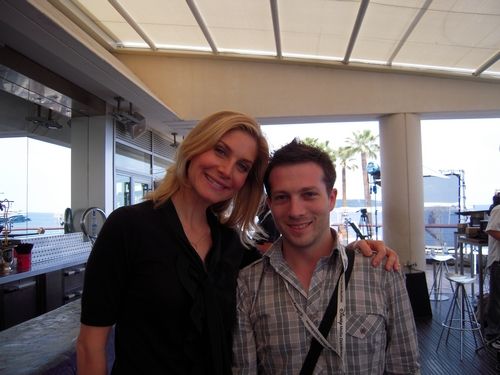 "Mind Bullets" or "Bang Bang Bang Bang Motherfucker" // 2 53o ooo tlsp.

---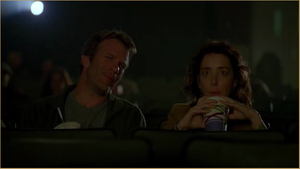 J'aurai pu n'accorder que deux étoiles à cet épisode dans le sens où il ne fait rien avancer du tout et faire autant de surplace quand on a que 26 minutes à occuper dix fois par an, c'est moyennement recevable. Mais l'étoile finalement gagnée vient du fait que Hung prend le temps d'approfondir les choses et particulièrement dans cet épisode où tout est dans les dialogues, finement écrits et pensés. Je pense en particulier à la séance de cinéma avec Ray, Tanya, Darby et Damon qui était très riche et assez émouvante sans en faire des caisses. C'est une émotion toute simple et furtive qui s'échappe d'un mot ou d'un regard. "I'm not going to climb into any box, and I'm not going to climb out of any box. If there even is a box, someone else put it there. Not me." J'adore cette phrase de Damon un peu naïve mais tellement vraie ! Je suis parfaitement d'accord avec lui. Si Darby et Damon ont une utilité, c'est bien celle de dire des choses censées et intelligentes de temps en temps, et c'est aussi ce qui les différencie de leurs parents, moins réfléchis, qui vivent (trop) dans l'instant. On se retrouve avec un schéma classique mais réaliste où les enfants tentent de ne pas comettre les erreurs de leurs parents mais en faisant cela, en voulant sans cesse se démarquer, font leurs propres erreurs. Le cycle de la vie ! Bla bla bla. Le passage où Darby parle à son père de leur physique à elle et son frère est très libérateur, comme si on s'attardait enfin sur l'éléphant qui est dans la pièce depuis le début ! Notons enfin cette phrase limite choquante si les scénaristes mettent leur promesse à exécution : "If you weren't my sister, I'd try to get to third base with you. But what the hell, I still might !" Je ne sais pas si Hung est la meilleure série pour traiter d'un thème aussi tabou que l'inceste mais ce serait osé, je suis toujours pour.
La guerre Tanya/Lenore se poursuit et de manière plutôt inspirée cette semaine puisque Tanya ne se laisse pas faire mais nous fait rire tout en se ridiculisant une fois de plus ! Rien de super original, j'en conviens, mais c'était très drôle. La scène de cul entre Ray et la patronne de Tanya était excellente. Hung est capable de ce genre de choses quand elle veut et elle fait bien de ne pas en abuser. Ca lui permet de ne pas tomber dans les travers de... Californication par exemple ! Scène assez inutile par contre entre Tanya et le vrai P.I.M.P. J'attends plus de leur relation.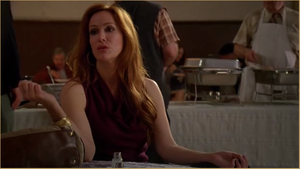 ---
// Bilan // "There's a deeper meaning. Look. Try to find it." Le message que passe les scénaristes aux détracteurs de la série est clair, non ?