18 juillet 2010

Les plus anciens lecteur du blog se souviennent peut-être de la première édition des DNES Awards. C'était en 2007, peu de temps après la naissance du blog. How I Met Your Mother, Dexter, Pushing Daisies et Brothers & Sisters figuraient parmi les grandes gagnantes. Je n'ai jamais réitéré l'expérience par manque d'envie et de temps mais cet été, j'ai envie et j'ai le temps. J'espère que vous aussi !
Tout au long des semaines qui nous séparent de la rentrée, je vous présenterais les nommés de chaque catégorie, que j'ai choisis seul, en mon âme et conscience, et oui, ce ne sera pas forcément toujours juste et certains crieront au scandale, mais c'est mon blog après tout. Je fais ce que je veux ! A peu de choses près en tous cas, j'ai suivi le système des Emmy Awards avec les mêmes catégories (en retirant toute la partie mini-série qui ne m'intéresse guère) et le même nombre de nommés par catégories (6), ce qui est un véritable casse-tête ! J'espère avoir été le plus juste possible et vous demande humblement de venir voter semaine après semaine pour vos favoris. Les votes resteront ouverts tout l'été pour les retardaires et les résultats seront dévoilés en Septembre, avant que les nouveautés ne débarquent ! D'avance, merci à vous.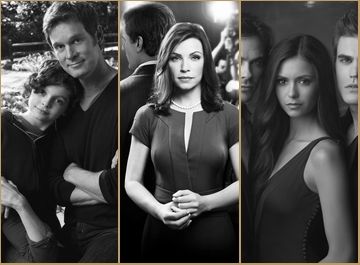 Dans la catégorie "Meilleure Nouveauté" de la saison 2009/2010, les nommées sont : Glee, Life Unexpected, Modern Family, Parenthood, The Good Wife et The Vampire Diaries.
N'ont pas mérité d'entrer dans cette catégorie : V, FlashForward, NCIS: Los Angeles, Spartacus: Blood & Sand, Mercy, Trauma...
L'auraient sans doute mérité mais il faut bien faire des choix : Treme, Community, Justified, The Middle...
Attention, certaines des séries sus-nommées ne réapparaîtront plus dans aucune catégorie. C'est le moment ou jamais de voter pour elles...