09 avril 2010

Au programme cette semaine : Adios Betty, les retours de Glee et de Gossip Girl, Tina Fey et Steve Carrell en guests (un crossover The Office/30 Rock, ça vous tente ? Eh bien pas eux), Lie To Me arrive sur M6, les pilotes sont en tournage...

The Truth Hurts // 414 ooo tlsp.

---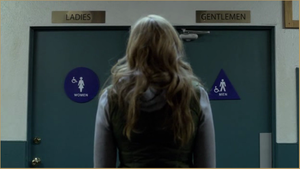 "Dogs In The Bathtub", voilà l'expression ô combien vulgaire que m'aura appris cette semaine United States of Tara ! Il a fallu que je cherche sur internet ce que ça pouvait bien vouloir dire, je suis sans doute trop chaste pour pouvoir le deviner tout seul ! Pour ceux qui ne le savent pas, cela renvoie à une pratique sexuelle que je ne connaissais pas (j'en connais un rayon pourtant) qui consiste à faire rentrer ses testicules (couilles) dans l'anus (le trou de balle) de son partenaire. Si vous vous demandez pourquoi ces versions trash entre parenthèses, la réponse est simple : pour optimiser mon réfèrencement par mots-clés ! Je suis sûr que peu de blogs font état de cette pratique. S'il doit n'y en avoir qu'un, ce sera le mien ! Bienvenue à tous les pervers du net donc et Dieu sait s'ils sont nombreux... Bref, pour en revenir à la série, ce passage est anecdotique mais il m'a bien fait rire, tout comme les scènes entre Marshall et Kate toujours très réussies et décomplexées à mort. Pour l'un comme pour l'autre, on ne sait pas très bien ce vers quoi les intrigues se dirigent mais on reste dans la thématique principale de la série : la recherche indentitaire. Cela dit, j'ai encore du mal à être convaincu par le cas Kate avec cette artiste qui promettait d'être déjantée mais qui ne fait pas grand chose pour le moment à part blablater. La petite Courtney est plus marrante, dans un tout autre style ! Du coté de Chermaine, pas grand chose à dire. Neil découvre qu'elle est fiancée mais il faudra attendre la prochaine fois pour connaître les éventuelles conséquences de cette révélation...
On en vient à notre Tara qui n'arrive plus à se défaire de Buck et de ses coucheries à répétition avec la serveuse. Enfin, s'il n'y avait que coucherie, ça ne poserait pas autant problème. Maintenant, il y a de l'amour entre eux. Autant dire que la séparation est difficile, à la fois pour cette femme fragile, pour Buck lui-même qui fond en larmes à la fin de l'épisode (dans une scène où Toni Collette nous arrache le coeur) et pour Tara bien-sûr, qui a tenté de gérer ce nouveau débordant mais qui n'y est pas arrivé et qui va devoir en payer le prix. C'est surtout avec Max que ça va coincer. Il est bien gentil, super compréhensif, mais sa patience a visiblement des limites. C'est rassurant, il n'est pas parfait. C'était louche aussi.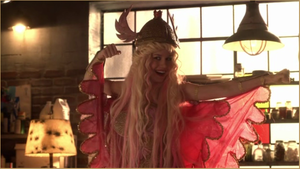 ---
// Bilan // Dans cet épisode, les scénaristes de Tara prennent un petit risque en n'allant pas forcément là où on les attendait. On se doutait bien que le bonheur chez les Gregson n'allait pas durer indéfiniment mais pas forcément que ça allait se passer comme ça... Jusqu'ici, je n'ai pas à me plaindre de la série. Une belle saison 2 s'annonce !