02 avril 2010

Au programme cette semaine : Forest Whitaker nous parle de son personnage dans le spin-off d'Esprits Criminels, Frédéric Diefenthal confirme (ou pas) une suite pour Flics, 24 est annulée et Castle est renouvelée (promo sexy à la clé), un point sur les séries achetées en France (Modern Family, Glee, The Good Wife, Vampire Diaries...) et découverte de Treme...

Twitter // 686 ooo tlsp.

---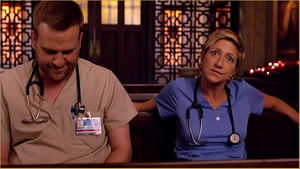 On connaissait le Dr. Mamour et le Dr. Glamour, Nurse Jackie nous invente le Dr. Twitter ! Beaucoup moins attirant de prime abord mais vachement plus fun en fait ! Pour la première fois je crois, Cooper a pris l'avantage sur Jackie dans la guéguerre ridicule qu'ils se ménent. Et ça change tout ! Quand on regarde bien, la vie n'était pas si compliquée pour Jackie en saison 1. Elle se la compliquait toute seule mais pas grand monde ne venait barrer sa route. Cette saison, ça se complique vraiment pour elle et c'est plus intéressant. Coop' est un problème mais pas le plus gros. Il y en a deux autres qui risquent de prendre de l'ampleur jusqu'à explosion maximale. On a d'un coté le nouvel infirmier qui, en plus d'être mignon comme tout (il me fait beaucoup penser à Freddy-Luke Pasqualino de Skins) est loin d'être bête. Il a repéré depuis le début l'addiction de Jackie et il ne la lâchera pas tant qu'elle n'admettra pas. J'aimerais beaucoup qu'elle lui avoue dans peu de temps en fait, ça pourrait rendre leur relation plus passionnante encore. Et puis de l'autre coté, il y a évidemment Edie, déjà sur pied après sa tentative de suicide, qui retourne voir son nouveau pote Kevin, le mari de Jackie. Combien de temps avant qu'elle ne s'en rende compte ? C'est à partir de ce moment-là que ça deviendra intéressant parce que pour le moment, bof. Edie et Kevin ne sont pas passionnants séparement alors ensemble...
Les personnages secondaires font leur boulot toujours aussi bien. Heureusement qu'ils sont là, ils sont même indispensables ! Ma préfèrence va encore et toujours pour Zoey qui nous offre chaque semaine un festival de bonnes répliques et tout un tas de mimiques et de gestes tordants. Son "Walk Of Shame" était pas mal dans le genre. Mais j'ai préféré ses conseils à "God". Enfin un personnage niais qui n'est pas agaçant et qui, au fond, assume parfaitement sa niaiserie ! Eleanor m'a fait moins rire cette semaine, le sentiment qu'Eve Best en fait un peu trop, surtout quand elle est censée être sous ecstasy. Le personnage n'a pas vraiment besoin de ça pour être alerte alors... Et puis pour terminer, il y a Thor, le remplaçant de MoMo. Je ne peux pas m'empêcher de le rappeler, c'est ce qui m'oblige à ne pas totalement adhérer à lui. N'empêche qu'il est assez touchant avec son histoire de diabéte et cet oeil de verre, un peu effrayant mais étonnamment pas si glauque.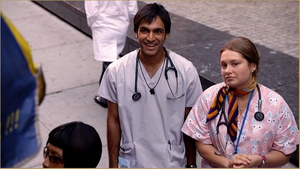 ---
// Bilan // Bon épisode mais je me dois de le dire, au moins une fois cette saison : le format 26 minutes reste extrêmement frustrant. Par exemple, j'aurais bien aimé assister au passage où Jackie appelle les parents du petit patient qu'elle a renvoyé chez lui. On est passé à coté de quelque chose d'important à mon sens, une émotion.