The Window // 9 2oo ooo tlsp.

---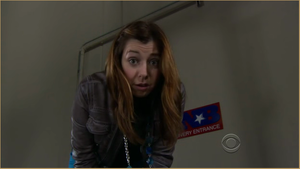 Mon coeur (et mes zygotatiques) me dit que cet épisode était bon, ma raison me dit qu'il était moyen. J'ai choisi de suivre mon coeur cette fois mais cela ne va m'empêcher de vous dire ce que me souffle ma raison... Avant toute chose : l'intrigue de Ted m'a conquis ! C'était drôle, original et tendre. Trois qualités dont la série fait de moins en moins souvent preuve. Et puis c'était une très bonne chose de remettre Ted au centre d'un épisode. Ca faisait un moment qu'il tournait autour des autres sans avoir grand chose à dire ou à faire. C'était un plaisir de retrouver JoAnna Garcia dans le rôle de cet aimant à mecs, qui passe d'une relation à une autre sans jamais laisser l'opportunité à Ted de tenter sa chance. Elle est fraîche, souriante, mignonne, on a envie de lui faire des câlins... Malheureusement, elle a été sous-exploitée. Le nombre de ses dialogues se comptent sur les doigts d'une main. Du coup, on a un peu de mal à comprendre pourquoi ils sont tous à ses pieds et pourquoi Ted craque sur elle depuis tant d'années ! D'un autre coté, étant donné que ce ne sera pas la mother, comme nous le fait comprendre la jolie (mais triste pour notre héros) fin de l'histoire, c'est peut-être mieux qu'elle ne soit pas renversante. Sinon, je me demande quand même comment j'ai pu comparer l'actrice à Kate Walsh à l'époque de Privileged ! Elle est mignonne mais elle n'a ni sa classe ni son charisme. Bref, toute cette intrigue était sympa et j'ai adoré les interventions de Robin ! Le "What's In The Box ?" était tout simplement mémorable d'ailleurs. Par contre, les gars, retournez prendre des cours de français ! "Les chiennes érotique" quoi. Et le "s" il est passé où ? N'empêche, ça aussi c'était très marrant.
Le fait que la mini-intrigue de Barney rejoigne celle de Ted était une bonne chose, afin d'éviter le cloisonnement des storylines dont est trop souvent victime la série ces derniers temps. Cela dit, j'ai une fois de plus du mal avec Barney. Le problème, au-delà du fait que ses pitreries sont lassantes, c'est qu'il n'est plus crédible en dragueur invétéré. On l'a découvert attentionné avec Robin, amoureux quoi. Et même si ce Barney-là était moins drôle, il était plus attachant et plus intéressant au bout de 5 saisons. Je ne me fais donc toujours pas à ce retour en arrière. Il m'a quand même fait décrocher quelques sourires dans cet épisode, tout n'est pas perdu. Marshall et Lily, de leur coté, se mangent encore un demi-raté. Marshall avait beau être touchant, il n'y avait pas grand chose de drôle là-dedans, à part peut-être la blague récurrente sur sa mère. Et encore...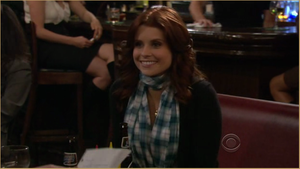 ---
// Bilan // Le coeur a parlé. Tout est dit !