The Playbook // 8 16o ooo tlsp.

---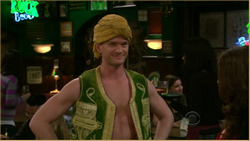 Bon. Je suis toujours trèèèèès partagé quant à la séparation de Barney et Robin. Je les aimais bien ensemble mais il faut reconnaître qu'ils sont plus amusants seuls, surtout Mr Awesome. J'aurai quand même aimé que les auteurs soient un peu moins dans cet état d'esprit : "on a fait une erreur de les mettre ensemble, débarrassons-nous en au plus vite !". C'est-à-dire qu'il y a un moment où on sent que Robin, contrairement à Barney, souffre encore de leur séparation et puis on balaye ce sentiment en deux secondes avec l'arrivée d'un nouveau prétendent, que l'on nous présente comme sérieux. Impossible de dire pour l'instant ce qu'il vaut. Je n'ai même pas reconnu l'acteur. Mais c'est bien d'amener un peu de sang neuf à la série, c'est certain. Tout comme c'était sympa d'avoir la "blonde-guest" tout au long de l'épisode même si elle n'a pas dis grand chose.
Cet épisode était celui de Barney. Quasi-entièrement. Une fois de plus, la recherche de la mother n'avance pas du tout et encore une fois Marshall et Lily font presque de la figuration. Ca ne les empêche pas d'être drôles quand ils l'ouvrent mais c'est trop peu pour être satisfaisant. Et puis j'ai beau adoré Barney, je commence à me lasser de ses inventions. C'est génial que les scénaristes réussissent encore à faire preuve d'une grande imagination mais on commence à tourner en rond. Après le Bro Code, voici le Playbook. Il renferme absolument toutes les méthodes de dragues du serial lover. Il y a de grande chances qu'il sorte lui aussi véritablement en librairies. Et c'est peut-être d'ailleurs tout le but de cet épisode : jouer à fond la carte du marketing et ça devient trop flagrant à mon goût. En plus de ça, Barney commence très légèrement à devenir agaçant. Je ne sais pas si je suis le seul à avoir ressenti cela mais toute son awesomeness paraît de plus en plus fabriquée, de moins en moins sincère. L'épisode était trop répétitif mais il y a eu de très bonnes choses : les déguisements, "The Ted Mosby", les "MILSWANCA" (Mothers I'd like to sleep with and never call again) ou encore le brillant "The SCUBA Diver" ! On le voit venir celui-là mais ça ne l'empêche pas de faire son effet !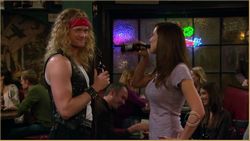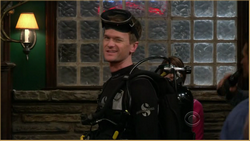 ---
// Bilan // J'ai beaucoup de mal à outrepasser cette sensation d'un grand retour en arrière, avec près d'une saison entière de rebondissements mise à la poubelle. Et je me lasse des folies de Barney, un peu. Toujours est-il qu'on se marre...