The Sexless Innkeeper // 8 56o ooo tlsp.

---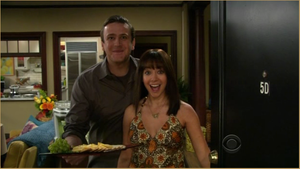 La saison 5 de How I Met poursuit sur sa bonne lancée avec un épisode très sympathique et plutôt du genre mémorable ! Pour l'occasion, Lily et Marshall sont vraiment mis en avant et cela faisait longtemps que ce n'était pas arrivé. C'est rarement bon signe, sauf cette fois-ci. Ils cherchent depuis des années un couple pour faire des double dates très spéciaux. Ils profitent donc du fait que Robin et Barney soient désormais ensemble pour les y inviter. Comme prévu, ça tourne rapidement au cauchemar... Je ne sais pas ce qui m'a le plus fait rire. Allez, on va dire l'obsession de Marshall pour le gouda ! C'était excellent. Le clou du spectacle était évidemment le montage-vidéo du site consacré à la soirée sur une chanson spécialement composée par Marshall. Je ne me suis pas encore remis du "Crème brûlée-lé-lé-lé-lé" personnellement. Les scénaristes prouvent ainsi que même avec du classique (pas mal de sitcoms ont traité du double-couple-date), ils réussissent à se dinstinger grâce à leur style inimitable, regorgeant de pleins de bonnes idées que ce soit dans les dialogues ou dans la mise en scène. Lily et Marshall ont tellement brillé (et m'ont quand même fait beaucoup fait penser à Monica et Chandler) que Robin et Barney ont eu du mal à en placer une mais on va dire que pour une fois, ce n'est pas bien grave. Et puis le "All By Ourselves" par Neil Patrick Harris et Cobie Smulders, c'est quelque chose ! Je veux le MP3 !
Ted, forcément exclu du double-date, tente de se taper une de ses étudiantes et c'est alors que Barney nous sort une de ces inventions dont lui seul a le secret : le principe du "Sexless Innkeeper". Là encore, c'est très inventif puisqu'il illustre la chose sous forme d'un poème tout en son et images. Mais c'est lorsque Ted présente sa version des faits que c'est finalement le plus drôle. Doit-on voir dans la dernière phrase de Barney un indice sur la suite des événements concernant sa relation avec Robin ? Ce "What Have I Done ?" n'est peut-être pas innocent...
---
// Bilan // Lorsque les scénaristes de How I Met s'amusent à faire du neuf avec du vieux, ça donne un épisode réussi qui rassure sur la santé de la sitcom.
---
// Bonus // Le clip de "It Was The Best Night Ever" pas vu à la TV ! Jason Segel se débrouille pas mal mine de rien ^^