11 octobre 2009

[Le Guide des Pilotes 2009/2010]
Je les ai testées, je les ai parfois détestées, plus rarement je les aimées mais elles sont toutes là, les nouvelles séries de la rentrée (Sauf The Forgotten, son titre se suffisant à lui même; Brothers, je n'ai pas trouvé la force; et NCIS Los Angeles, plutôt crever).
Cliquez sur les étoiles pour lire les critiques complètes
Testées et approuvées !
Des pilotes efficaces et prometteurs, des séries à ne pas rater !
BORED TO DEATH

MODERN FAMILY
THE MIDDLE
ACCIDENTALLY ON PURPOSE
Testées et à re-tester !
Des pilotes décents, des séries à surveiller de près...
GLEE
MELROSE PLACE
THE GOOD WIFE
COMMUNITY
SONS OF TUCSON
MERCY
EASTWICK
COUGAR TOWN
Testées et détestées !
Des pilotes mauvais voire médiocres, des séries à oublier !
THE VAMPIRE DIARIES

THREE RIVERS

TRAUMA

HANK

A venir à la mi-saison : V, Happy Town, 100 Questions, Parenthood, Copper (...)

Vitamin D // 7 28o ooo tlsp.
---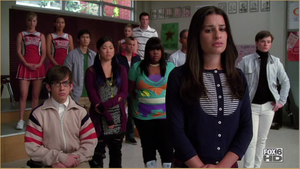 Glee se lance dans la mode du mash-up ! Une certaine Madonna en a usé et abusé sur sa dernière tournée, avec plus ou moins de succès. Le principe est simple : mélanger deux chansons qui n'ont a priori rien à voir l'une avec l'autre ! Les filles étaient en compétition contre les garçons... On refait le match !
Le mash-up des filles :
Halo (Beyoncé) / Walking On Sunshine (Katrina & The Waves)
Vs
Le mash-up des garçons :
Alors, une préfèrence ? Impossible de les départager pour ma part ! C'était vraiment super sympa, super énergique et pour cause : Terri les avait drogués ! Quoi ? Long story... C'était du grand n'importe quoi mais c'est précisément ce que l'on attend de la série : des intrigues farfelues et des numéros musicaux réussis. Et puis du rire aussi et on a été généreusement servi dans cet épisode. Je ne remets toujours pas d'Emma qui essuie la trace de moutarde sur le menton de Will avec ses gants. C'est trop con mais c'était tellement innatendu ! Le journal intime de Sue, c'était pas mal non plus d'ailleurs. Maintenant qu'elle a été nommée co-directrice du glee club, ça promet ! Les scénaristes ont même pensé à la petite touche émotion à travers la relation très étrange de Emma et Ken. Ils étaient touchants, et ridicules aussi mais c'est là tout l'intérêt. Ca contre-balance avec l'éventuelle niaiserie qui pourrait parfois se dégager de la série. La mention spéciale revient quand même à Terri qui a fait du grand Terri. Les élèves étaient plus en retrait, c'est vrai, mais ce n'est que temporaire j'imagine et ça ne m'a pas dérangé plus que ça.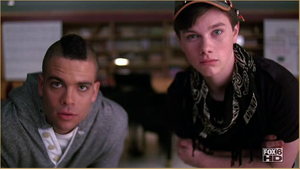 ---
// Bilan // Highly entertaining, as usual. Qu'est-ce qu'on se sent bien après un épisode de Glee !
En partenariat avec