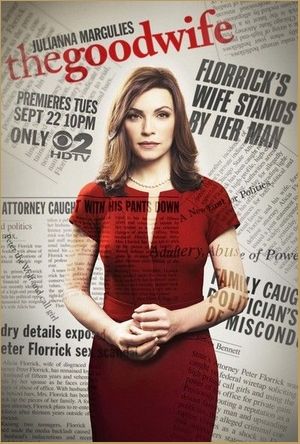 Pilot // 13 71o ooo tlsp.

What About ?
Après treize années passées loin des tribunaux pour élever ses enfants, Alicia Florrick reprend sa carrière d'avocate en main, mais elle doit faire face à un scandale sexuel et financier qui touche son mari, un politicien véreux...
Who's Who ?
Il y a deux ans, Julianna Margulies, l'inoubliable Carol Hathaway d'Urgences, était censée faire son grand retour à la télévision avec Canterbury's Law sur la FOX. Elle y interprétait le rôle d'une avocate prête à mettre sa vie personnelle en péril pour défendre les cas les plus épineux. La série a fait un bide retentissant et n'a duré que le temps de six épisodes. Revoilà l'actrice deux ans plus tard dans un rôle presque similaire sur le papier, heureusement les deux séries n'ont pour seuls points communs que d'être judiciaires et centrées sur une femme forte. Son mari est joué par Chris Noth, le Mr Big de Carrie dans Sex & The City, également habitué de l'univers Law & Order avec son personnage de Mike Logan dans New York District et New York Section Criminelle. Parmi les personnages secondaires, on retrouve avec bonheur Christine Baranski (Cybill, Ugly Betty) et Mary Beth Peil, la merveilleuse grand-mère de Jen dans Dawson. Les noms de Josh Charles, Archie Panjabi et Matt Czuchry parlent moins mais ils sont là. La série est produite par Tony et Ridley Scott.
So What ?
The Good Wife fait partie des quelques séries de la rentrée dont on a peu entendu parler car elle n'a pas créé de buzz particulier. Il faut dire qu'elle joue la carte de la sobriété à toute épreuve, tant dans la narration que dans la réalisation. Elle est presque académique et c'est ce qui la rend à la fois terriblement classieuse et mortellement ennuyeuse. Dans un paysage audiovisuel peuplé de séries qui se veulent innovantes et différentes, elle se démarque donc par sa simplicité et cela pourrait s'avérer payant. Elle est un mélange équilibré de procédural pure, avec le cas judiciaire de la semaine, et le feuilletonnant, autour du drame familial qui touche l'héroïne. Sans surprise, Julianna Margulies habite son rôle à la perfection. Son apparence d'une extrême froideur se fissure à chaque instant pour laisser entrevoir des qualités humaines indéniables et une force émotionnelle impressionnante. Les personnages secondaires manquent un peu de saveur pour l'heure mais le pilote ne cherche pas vraiment à les développer ou même à nous les rendre sympathiques. Nous les décrouvrirons sans doute au fur et à mesure et en même temps qu'Alicia qui n'en connaît pas encore la plupart. Les scénaristes ont décidé de prendre leur temps, un choix plutôt audacieux lorsque beaucoup d'autres séries vont à mille à l'heure, quitte à oublier d'approfondir leurs intrigues. On sent dès les premières minutes que l'on est face à un show intelligent qui ne sera pas forcément très divertissant.
En bref, The Good Wife a une classe folle mais, comme toutes les beautés froides, elle manque de chaleur, elle ennuie un peu et elle se prend trop au sérieux. Il faut qu'elle se lâche et qu'elle dévoile ses imperfections, cela ne la rendra que plus attachante auprès de ses admirateurs.
---
// Bonus // Une bande-annonce comprenant une interview des acteurs...