The Leap (Season Finale) // 8 75o ooo tlsp.
---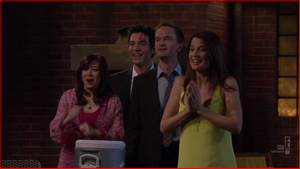 C'est touuuuuut ? C'est ça le Season Finale de How I Met ? Eh beh. L'épisode n'était pas mauvais mais on était en droit d'espérer mieux. Rien qu'au niveau de la fameuse chèvre. On nous en parle depuis deux saisons et ça n'était que ça ? Un fight entre Ted et la goat -qui est une femelle- qui a dû faire gueuler la PETA ? Ah je suis vraiment déçu. Je pensais qu'elle aurait un vrai impact dans les intrigues. Ca ne méritait pas d'en parler tant en avance. C'est effrayant une chèvre quand même... Je ne suis pas loin de me créer une phobie tiens ! Pendant que Ted tâtait de la chèvre, Robin et Barney se sont enfin avoués leurs sentiments mutuels. Enfin c'est compliqué. Jusqu'ici, on ignorait que Robin avait elle aussi des vues sur Barney. Mais en a-t-elle vraiment ? Ce n'est pas très clair. N'empêche qu'il y a eu un baiser précédé d'une scène tordante où ils se "mosbysent" et rien que pour ça, ça valait le coup. Leur couple a un potentiel énorme et j'espère que les scénaristes comptent s'en servir à fond la saison prochaine. Il faut au moins ça pour raviver notre intérêt faiblissant pour la sitcom.
Lily est de retour ! Et ça se sent. Elle manquait à l'équilibre du groupe. En réalité, cet épisode a été tourné avant les précédents, pour être sûr qu'Alyson Hannigan et Cobie Smulders soient là. Le clin d'oeil à la grossesse d'Alyson était amusant mais j'aurai vraiment aimé que ce ne soit pas une blague, histoire de faire bouger un peu les choses. Une grossesse dans une série de potes, c'est rarement bon signe pour sa qualité mais il faut bien que les choses évoluent bon sang ! Le saut de Marshall était une belle idée de l'épisode.? Ce n'était pas à mourir de rire mais c'était mignon, surtout lorsqu'ils sautent tous un par un à la fin. On s'y attendait un peu mais ça m'a plu. Métaphoriquement parlant, c'est bien trouvé.
Je termine sur un bout de dialogue de Barney que j'ai trouvé touchant : "Maybe I don't want to be saved the Trouble. Maybe I want the Trouble. I haven't wanted the trouble in a long time, but with you the Trouble doesn't seem so... Troubling !"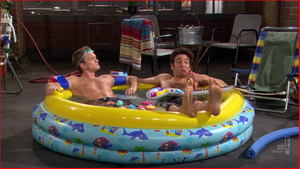 ---
// Bilan // Ainsi s'achève le 4ème chapitre de How I Met Your Mother. C'était sans doute le moins drôle de tous même si la saison 3 n'était pas terrible non plus. Je reste nostalgique des deux premières saisons : plus amusantes, plus originales, plus fraîches. Cette saison 4 a aligné les stand-alones parfois ratés. Je retiens surtout The Naked Man, le meilleur épisode de la saison pour moi, Woooooo !, The Stinsons et Intervention. Le mystère autour de la "mother" se désépaissit un tout petit peu. Il s'agirait d'une des élèves de Ted car Ted devient professeur d'architecture. J'imagine que la sauce va encore être rallongée à fond et je me surprends à espérer que la série s'arrête à la 5ème saison...