29 avril 2009

The Three Days Rule // 8 87o ooo tlsp.
---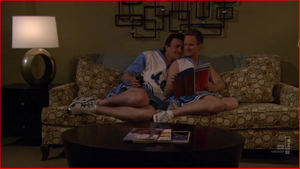 Quel dommage ! How I Met Your Mother se démarque en général par son originalité, ou en tous cas par sa façon originale d'aborder une intrigue qui ne l'est pas forcément, mais là : et l'intrigue et le traitement sont classiques. Le coup des deux potes qui font un sale coup au troisième, ça fait penser à Friends, c'est déjà arrivé même si aucun exemple bien précis ne me vient à l'esprit à brûle-pourpoint, et c'est sans doute arrivé dans pas mal d'autres séries, tant j'avais le sentiment d'être en terrain connu. Pour la surprise et l'originalité, on repassera donc. Le petit retournement de situation final fait d'ailleurs parti du package habituel.
Ceci dit, il y avait de bonnes choses. Le "Naked Lady Noise" était un peu ridicule à la longue mais ce n'était pas une mauvaise idée au départ. Ca vaut surtout pour la spontanéité de Robin qui ouvre en grand sa robe de chambre pour prouver à Ted qu'il fait bien un bruit ! Robin m'a bien fait marrer aussi quand elle tenait absolument à prouver que sa blague était meilleure que celles de Ted. Barney et Marshall ont fait du bon boulot, notamment dans cette scène dans le bureau de Barney où ils se battent pour savoir qui est celui qui fait fantasmer Ted en secret. "I'm cuddly bitch ! Deal with it !" Et les petites scènes imaginaires où ils prennent un bain, où ils regardent les étoiles lovés sous une couverture et surtout celle où ils sont sapés en cheerleaders étaient tordantes ! L'absence de Lily ne s'est pas trop fait ressentir dans cet épisode mais ça fait vraiment bizarre de ne pas la voir aux cotés de Marshall, tant on y est habitué !
---
// Bilan // Trop classique dans le fond et dans la forme, l'épisode est néanmoins amusant.