Old King Clancy // 7 4oo ooo tlsp.
---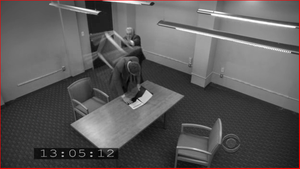 Après le visionnage de cet épisode, je n'ai qu'une seule chose à dire : bon courage aux sous-titreurs amateurs et aux traducteurs pour la version française de la sitcom. Vous avez du boulot les gars ! Tous les noms de "Canadian Sex Acts" sont juste intraduisibles ! C'est certainement pour ça aussi que ça ne m'a pas du tout fait rire. La barrière de la langue est parfois insurmontable. J'ai beau avoir un bon niveau d'anglais, je n'ai pas compris grand-chose de tout ça. "Squatting Esquimo", "Musty Goaltender", le fameux "Old King Clancy"... Non franchement, c'était hard à suivre. Et je suis sûr que ça l'était aussi pour les américains, alors imaginez bien que nous... Manque de bol, la grande intrigue autour du projet architectural de Ted et du gros mensonge de Marshall et Barney n'était pas spécialement drôle. J'ai trouvé les répliques de Marshall assez marrantes alors que c'est certainement le personnage qui me fait le moins rire d'habitude. Barney n'a pas brillé du tout, Ted était gavant mais certaines de ses façons de parler m'éclatent, et puis Lily, j'avoue qu'elle m'a amusé. Par contre, si une table et un ordinateur portable grand ouvert ne suffisent plus pour cacher son ventre rond, elle va finir la saison derrière des murs ! Ca-ou-là, quelques bonnes idées quand même, notamment la présentation de la "task force" de Barney et Marshall, le coup des boulettes de viande et LA réplique de Ted qui m'a fait hurler de rire (euh, j'exagère) : "I have to think of ways to put my wood into Bilson's dark atrium" ! Pour finir, la toute dernière scène était amusante ! Se rendre compte que Robin est l'initiatrice de l'"Old King Clancy" !
---
// Bilan // Très petite forme cette semaine pour HIMYM ! Il faut dire que c'était un épisode très américano-américain. A noter que l'équipe est allée au bout de son délire, comme souvent, en créant le fameux site : http://www.canadiansexacts.org/ !