17 décembre 2008

Little Minnesota // 11 4oo ooo tlsp.

---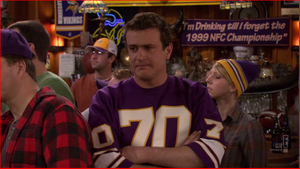 Cet épisode était divisé en deux storylines : l'une plutôt drôle, l'autre beaucoup moins. Les deux se sont terminées sur une sorte de petite leçon dont on se passerait bien sur les thèmes de la tolérance et de la confiance. Ce n'est pas vraiment dans les habitudes de la série. On va dire que c'est l'effet noël, tout le monde il est beau tout le monde il est gentil. D'un coté, on a donc Barney qui veut se faire -parce que c'est vraiment ça- la soeur de Ted. Les petites chansons de noël détournées par Barney de manière salace sont marrantes. Le reste n'était vraiment pas terrible. Surtout cette fin qui consiste à nous faire croire qu'ils n'ont pas couché ensemble et qu'ils voulaient simplement donner une leçon à Ted. De plus, Lily est un peu lourde. De l'autre coté, et c'est beaucoup plus drôle, on a Marshall qui fait découvrir à Robin son petit havre de paix à New York : un bar made in Minnesota. Pas toujours évident de comprendre les blagues dirigées contre le Canada quand on n'est pas américain. Mais grâce à Robin, l'ensemble passe bien. Le clin d'oeil à "Let's go to the mall" en fin d'épisode m'a bien plu ! C'est avec ce genre de détails que la série me rappelle Friends.
---
// Bilan // Pas de quoi se marrer pendant 20 minutes non-stop, c'est sûr. Mais cet épisode est plaisant.

---
// Bonus // La liste au père-Noel de Barney !!!