26 novembre 2008

The Naked Man // 1o ooo ooo tlsp.
---
Woooo ! The Naked Man est tout simplement un épisode mémorable ! Un des meilleurs de la série avec Slap Bet et The Limo ! Une fois encore, les scénaristes ont fait preuve d'une grande inventivité, qu'il s'agisse du concept même du Naked Man, en passant par les "50 Reasons To Have Sex" et j'en passe. Tous les personnages, sans exception (donc même Marshall et Lily), ont été drôles. Et les deux personnages secondaires étaient très bons aussi dans leur genre. On nous a même glissé un petit indice "mythologique" avec un plan de Ted qui débarque dans son appartement (qu'il partage avec Robin maintenant, rappelons-le) et qui se retrouve nez à nez avec la fameuse chèvre ! C'est même daté au 8 Mai 2009, soit la fin de la saison à peu près. Nulle doute que l'on reviendra dessus ultérieurement. Et la cerise sur le gâteau, c'est que l'on a eu la chance de voir Neil Patrick Harris nu dans toutes les positions. Un fantasme devenu réalité ! Merci How I Met Your Mother. Je ne peux pas résister, voici un best-of des meilleures poses à adopter en cas de tentative de Naked Man :
1/ The Olympic Gymnast Who Stucks The Landing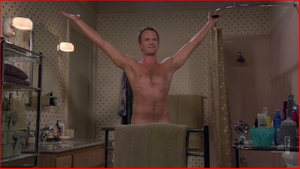 2/ The "Oops ! I Didn't See You There"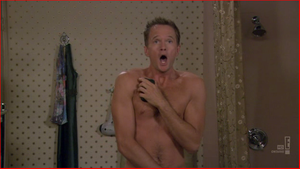 3/ The Burt Reynolds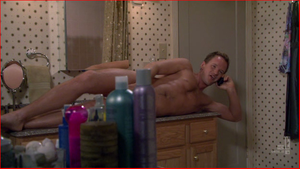 4/ The Superman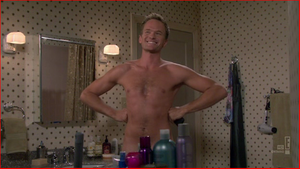 5/ The Mr Clean
6/ The Thinker
---
// Bilan // Un épisode absolument parfait : tordant, inventif et même excitant !
---
// Bonus // The Lily's 50 Reasons To Have Sex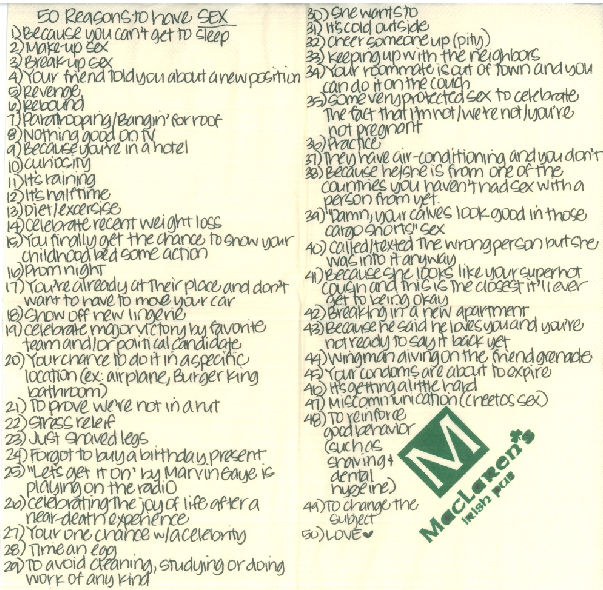 La Ronde //

---
Voilà un épisode qui porte fort bien son nom ! Ca, pour tourner en rond, la série est très forte. Et en si peu d'épisodes, c'est un exploit ! Hank et Karen sont déjà retournés ensemble ! Pour une nuit ou pour plus ? La fin de l'épisode laisse présager que Karen va rester aux cotés de Hank qui semble avoir un gros souci de santé. Un cancer ? Ca aurait le mérite de faire bouger un peu les choses et de parler d'autre chose que de sexe. Maintenant, si le but est simplement de remettre le couple phare de la série ensemble, ils auraient pu trouver moins facile. Le reste de l'épisode fait la part-belle au "romantisme", une fois n'est pas coutume. On a d'un coté Hank qui sort avec Mädchen Amick (Twin Peaks) et qui se refuse à elle (incroyable !) et de l'autre, Ashby qui surprend Karen en la dérobant pour un petit voyage à deux. Ce couple n'est pas une mauvaise idée. Ashby étant en gros un Hank II, elle cherche dans les autres hommes celui qu'elle veut mais avec qui rien ne semble plus possible. That makes sens. En attendant, c'est une belle erreur !
Becca est absente une bonne partie de l'épisode et c'est bien dommage puisqu'il s'agit du seul personnage attachant à mon sens. Et une storyline qui aurait pu être intéressante est traitée (pour le moment) sans aucune profondeur, à savoir Marcy qui est entrée en cure de désintox'. On la voit juste en début d'épisode et basta ! C'est juste l'occasion de laisser le champ libre à Charlie et Daisy pour fricotter, avec toujours ce coté malsain où il s'occupe d'elle un peu comme de sa fille. Sauf qu'il la baise. On ne baise pas sa fille, même toute porn star qu'elle est !
---
// Bilan // Californication est un éternel recommencement. A quand la fin ?