The Best Burger In New York // 8 8oo ooo tlsp.

---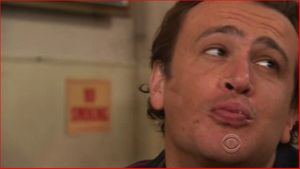 The Best Burger in New York, peut-être. The Worst Episode Ever, peut-être aussi ! Non mais que c`est que cet épisode complêtement raté, qui partait pourtant sur une bonne idée ? La créativité était au rendez-vous, comme toujours, mais ça n`était absolument pas drôle, hormis une ou deux lignes de dialogues par ci par là. Barney ? Il était mauvais comme tout, super lourd avec sa "Goliath National Bank". On apprend à la fin de l`épisode le pourquoi de cette attitude mais ça n`empêche qu`il n`était pas drôle du tout. Ted ? Lily ? Quasiment transparents, c`est à peine si on les remarque. Robin, ma chère et tendre ? Là aussi, le fait de la voir totalement affamée ne pas spécialement fait rire. C`était terriblement poussif et répétitif. On se serait cru dans un épisode de Mon Oncle Charlie quoi ! Alors par contre, cela a permis de mettre Marshall en avant, lui qui est si souvent en retrait. Je ne suis plus sûr d`avoir envie que ça arrive plus souvent, allez savoir pourquoi ... Non, faut bien avouer que lui non plus n`était pas au top de sa forme. Quand à Régis Philbin en guest-star, eh bien ... Comment dire ... Je ne connais le monsieur que de nom, je n`ai jamais vu une seule de ses émissions. Je ne sais donc pas quel était le but de la manoeuvre. Est-ce qu`il s`auto-foutait de sa gueule ? Est-ce qu`il était dans la série comme dans la vie ? Aucune idée. Tout ce que je sais, c`est que lui non plus ne m`a pas fait rire du tout.
Mon unique étoile est dédiée aux deux seules répliques qui m`ont faites beaucoup rire : Lily qui lance un "It`s my first Burgasm !" et Robin qui sort un "I just want you inside of me" à son burger !
---
// Bilan // La créativité a beau être là, si l`humour fait défaut, c`est foutu. Je n`ai pas reconnu HIMYM dans cet épisode. C`était une autre sitcom, fade et pas drôle. Rendez-nous HIMYM !